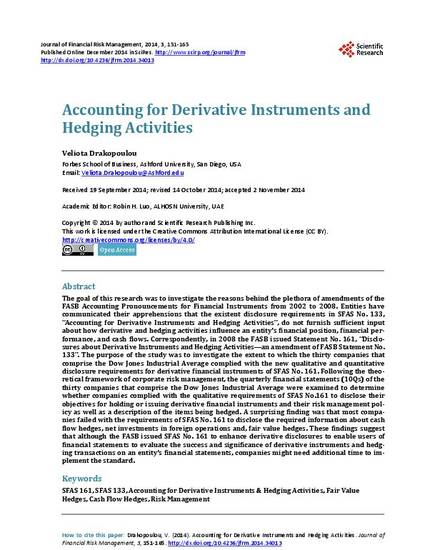 Article
Accounting for Derivative Instruments and Hedging Activities
Journal of Financial Risk Management
Publication/Presentation Date
9-19-2014
Abstract/Description
The goal of this research was to investigate the reasons behind the plethora of amendments of the FASB Accounting Pronouncements for Financial Instruments from 2002 to 2008. Entities have communicated their apprehensions that the existent disclosure requirements in SFAS No. 133, "Accounting for Derivative Instruments and Hedging Activities", do not furnish sufficient input about how derivative and hedging activities influence an entity's financial position, financial performance, and cash flows. Correspondently, in 2008 the FASB issued Statement No. 161, "Disclosures about Derivative Instruments and Hedging Activities—an amendment of FASB Statement No. 133". The purpose of the study was to investigate the extent to which the thirty companies that comprise the Dow Jones Industrial Average complied with the new qualitative and quantitative disclosure requirements for derivative financial instruments of SFAS No. 161. Following the theoretical framework of corporate risk management, the quarterly financial statements (10Qs) of the thirty companies that comprise the Dow Jones Industrial Average were examined to determine whether companies complied with the qualitative requirements of SFAS No.161 to disclose their objectives for holding or issuing derivative financial instruments and their risk management policy as well as a description of the items being hedged. A surprising finding was that most companies failed with the requirements of SFAS No. 161 to disclose the required information about cash flow hedges, net investments in foreign operations and, fair value hedges. These findings suggest that although the FASB issued SFAS No. 161 to enhance derivative disclosures to enable users of financial statements to evaluate the success and significance of derivative instruments and hedging transactions on an entity's financial statements, companies might need additional time to implement the standard.
DOI
https://doi.org/10.4236/jfrm.2014.34013
Publisher
Scientific Research: An Academic Publisher
Required Publisher's Statement
Copyright © 2014 by author and Scientific Research Publishing Inc. This work is licensed under the Creative Commons Attribution International License (CC BY).
http://creativecommons.org/licenses/by/4.0/
Citation Information
Veliota Drakopoulou. "Accounting for Derivative Instruments and Hedging Activities" Irvine, CA
Journal of Financial Risk Management
Vol. 3 Iss. 4 (2014) p. 151 - 165
Available at: http://works.bepress.com/veliota_drakopoulou/2/