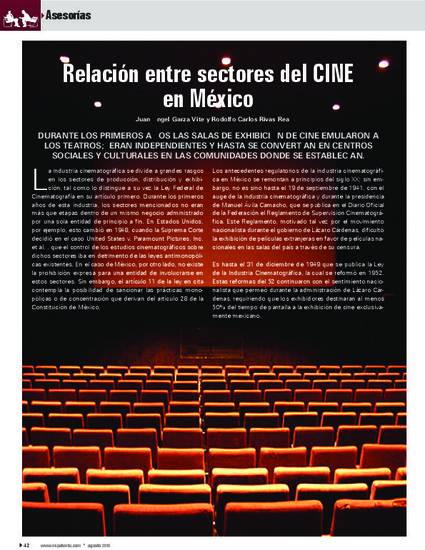 Article
Relación entre Sectores del Cine en México
Mi Patente (2010)
Abstract
A brief historical analysis of the film industry in Mexico that delves into the current state of affairs between producers, distributors and exhibitors. The authors also draw conclusions from current trend examples in the US and Europe.///////////////////////////////////////////Los autores realizan un breve análisis histórico de la industria cinematográfica en México, centrándose en particular en el estado de la relación entre productores, distribuidores y exhibidores. A partir de esto, los autores desarrollan conclusiones basados en tendencias actuales en los EE.UU. y Europa.
Keywords
Film Industry,
Mexico,
Intellectual Property
Publication Date
Fall September 1, 2010
Citation Information
Rodolfo C. Rivas Rea Esq. and Juan Ángel Garza Vite Esq.. "Relación entre Sectores del Cine en México"
Mi Patente
. August 2010 (2010): 42-43. Available at: http://works.bepress.com/rivas_rodolfo/1