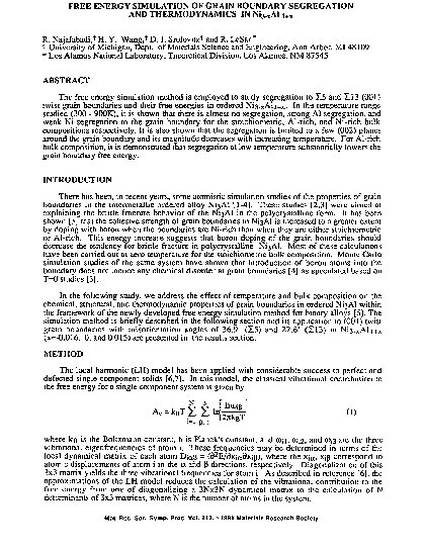 Presentation
Free Energy Simulation of Grain Boundary Segregation and Thermodynamics In Ni3−xAl1+x
1990 MRS Fall Meeting (1990)
Abstract
The free energy simulation method is employed to study segregation to Σ5 and Σ13 (001) twist grain boundaries and their free energies in ordered Ni3−xAl1+x. In the temperature range studied (300–900K), it is shown that there is almost no segregation, strong Al segregation, and weak Ni segregation to the grain boundary for the stoichiometric, Al-rich, and Ni-rich bulk compositions respectively. It is also shown that the segregation is limited to a few (002) planes around the grain boundary and its magnitude decreases with increasing temperature. For Al-rich bulk composition, it is demonstrated that segregation at low temperature substantially lowers the grain boundary free energy.
Publication Date
November, 1990
Citation Information
R. Najafabadi, H.Y. Wang, D. J. Srolovitz and Richard Alan Lesar. "Free Energy Simulation of Grain Boundary Segregation and Thermodynamics In Ni3−xAl1+x"
1990 MRS Fall Meeting
(1990)
Available at: http://works.bepress.com/richard_lesar/47/