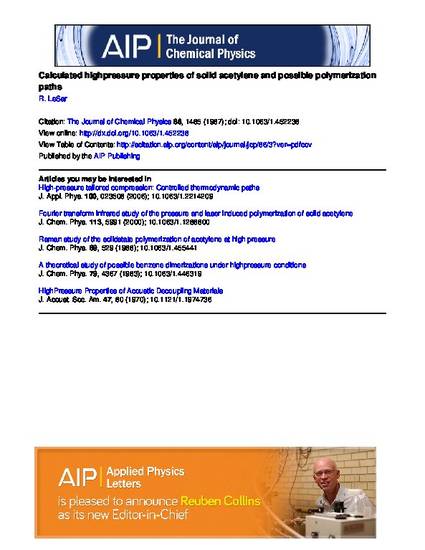 Article
Calculated high‐pressure properties of solid acetylene and possible polymerization paths
Journal of Chemical Physics (1987)
Abstract
Results of theoretical calculations at 0 K on the two known structures of solid acetylene using the modified Gordon–Kim plus damped dispersion model are reported. The lattice energy of the low temperature C m c astructure is compared to that of the high temperature P a3 structure at zero pressure and found to be slightly less stable, though a very small pressure (about 0.25 kbar) stabilizes the C m c astructure relative to the P a3 structure. Agreement between the experimental structure and energy for the C m c astructure and our present results is good. Structural properties of the C m c astructure were calculated to 100 kbar as well as the pressure dependence of the A g libron mode. A possible high‐pressure path for the polymerization of solid C m c a acetylene that would lead to a well‐ordered polymer was proposed, but calculations of C–C distances suggest that a more cross‐linked product would be favored.
Keywords
crystal structure,
high pressure,
polymerization,
lattice theory,
polymer structure
Citation Information
Richard Alan Lesar. "Calculated high‐pressure properties of solid acetylene and possible polymerization paths"
Journal of Chemical Physics
Vol. 86 (1987)
Available at: http://works.bepress.com/richard_lesar/23/