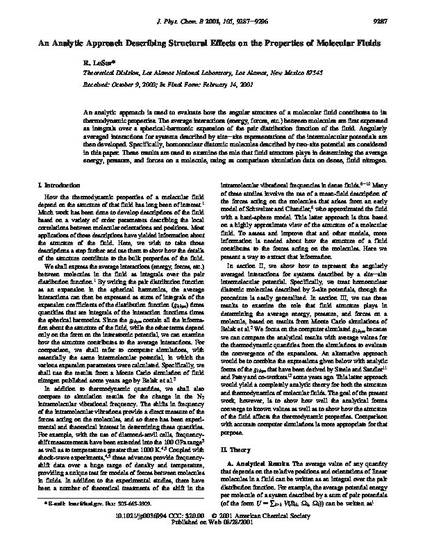 Article
An Analytic Approach Describing Structural Effects on the Properties of Molecular Fluids
The Journal of Physical Chemistry B (2001)
Abstract
An analytic approach is used to evaluate how the angular structure of a molecular fluid contributes to its thermodynamic properties. The average interactions (energy, forces, etc.) between molecules are first expressed as integrals over a spherical-harmonic expansion of the pair distribution function of the fluid. Angularly averaged interactions for systems described by site−site representations of the intermolecular potentials are then developed. Specifically, homonuclear diatomic molecules described by two-site potential are considered in this paper. These results are used to examine the role that fluid structure plays in determining the average energy, pressure, and forces on a molecule, using as comparison simulation data on dense, fluid nitrogen.
Publication Date
August 28, 2001
Citation Information
Richard Alan Lesar. "An Analytic Approach Describing Structural Effects on the Properties of Molecular Fluids"
The Journal of Physical Chemistry B
Vol. 105 Iss. 38 (2001)
Available at: http://works.bepress.com/richard_lesar/11/