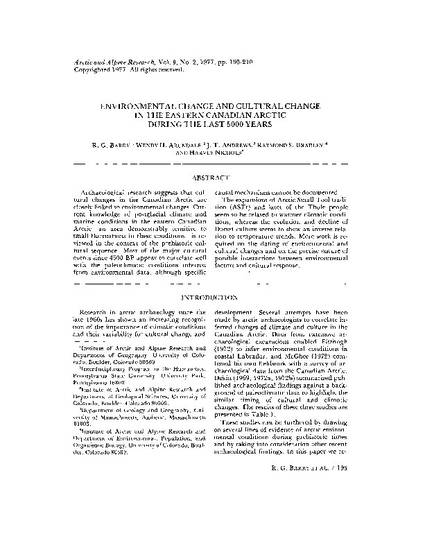 Article
Environmental Change and Cultural Change in the Eastern Canadian Arctic During the Last 5000 Years
Arctic and Alpine Research (1977)
Abstract
Archaeological research suggests that cultural changes in the Canadian Arctic are closely linked to environmental changes. Current knowledge of postglacial climate and marine conditions in the eastern Canadian Arctic- an area demonstrably sensitive to small fluctuations in these conditions-is reviewed in the context of the prehistoric cultural sequence. Most of the major cultural events since 4500 BP appear to correlate well with the paleoclimatic conditions inferred from environmental data, although specific causal mechanisms cannot be documented. The expansions of Arctic Small Tool tradition (ASTt) and later of the Thule people seem to be related to warmer climatic conditions, whereas the evolution and decline of Dorset culture seems to show an inverse relation to temperature trends. More work is required on the dating of environmental and cultural changes and on the precise nature of possible interactions between environmental factors and cultural response.
Citation Information
R. G. Barry, Wendy H. Arundale, J. T. Andrews and Raymond S. Bradley. "Environmental Change and Cultural Change in the Eastern Canadian Arctic During the Last 5000 Years"
Arctic and Alpine Research
Vol. 9 Iss. 2 (1977)
Available at: http://works.bepress.com/raymond_bradley/40/