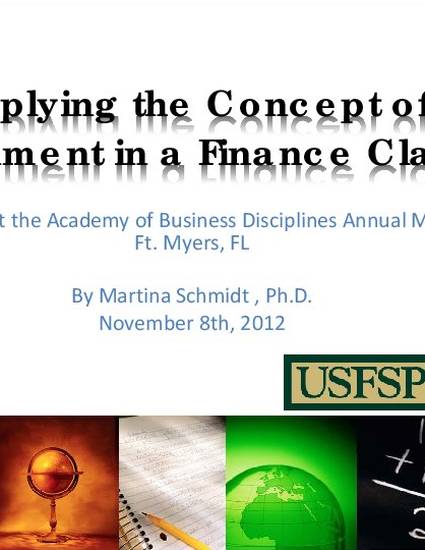 Presentation
Applying the concept of alignment in a finance class.
Faculty Publications
Document Type
Presentation
Date Available
2012-12-18
Abstract
The assessment of learning goals and objectives in business courses is important for business schools. However, not all business educators are necessarily knowledgeable and trained in designing appropriate learning objectives and matching all aspects of a course around these learning objectives. This paper helps to fill this gap of knowledge by describing the concept of alignment or how to design appropriate learning objectives and matching course materials and student engagement as well as assessment methods and the course technology to these objectives. This paper also applies the concept of alignment to the specific learning module of capital budgeting analysis in an online MBA level corporate finance class. Important observations and pointers are given that help an instructor align a class with the course objectives, materials, activities and assessments. The paper shows how the specific learning objectives in a capital budgeting analysis can be achieved with the use of screen capture recordings, spreadsheet tutorials, case study assignments and specific grading rubrics.
Publisher
University of South Florida St. Petersburg
Creative Commons License
Creative Commons Attribution-Noncommercial-No Derivative Works 4.0
Citation Information
Schmidt, M. (2012, November 8). Applying the concept of alignment in a finance class. Presentation at the Academy of Business Disciplines Annual Meeting, Ft. Myers, Florida