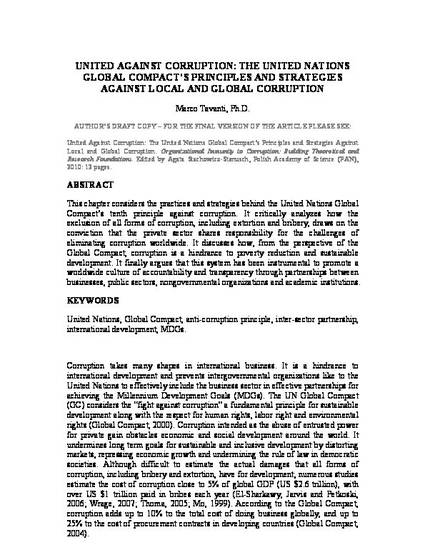 Contribution to Book
United Against Corruption: The United Nations Global Compact's Principles and Strategies Against Local and Global Corruption.
Organizational Immunity to Corruption: Building Theoretical and Research Foundations (2010)
Abstract
This chapter considers the practices and strategies behind the United Nations Global Compact's tenth principle against corruption. It critically analyzes how the exclusion of all forms of corruption, including extortion and bribery, draws on the conviction that the private sector shares responsibility for the challenges of eliminating corruption worldwide. It discusses how, from the perspective of the Global Compact, corruption is a hindrance to poverty reduction and sustainable development. It finally argues that this system has been instrumental to promote a worldwide culture of accountability and transparency through partnerships between businesses, public sectors, nongovernmental organizations and academic institutions.
Keywords
International corruption,
Global Compact
Editor
Agata Stachowicz-Stanusch
Publisher
Information Age Publishing (IAP)
Citation Information
Marco Tavanti. "United Against Corruption: The United Nations Global Compact's Principles and Strategies Against Local and Global Corruption." Charlotte, NC
Organizational Immunity to Corruption: Building Theoretical and Research Foundations
(2010)
Available at: http://works.bepress.com/marcotavanti/33/