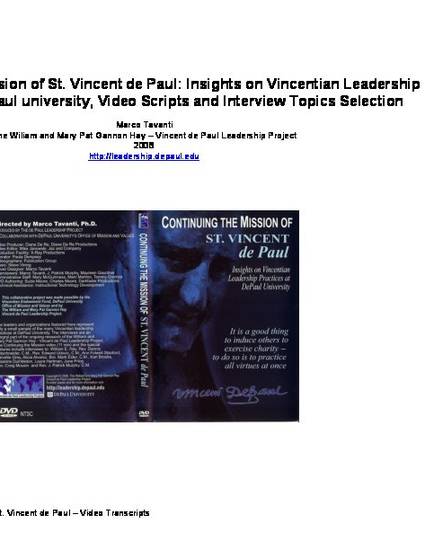 Popular Press
Continuing the Mission of St. Vincent de Paul: Insights on Vincentian Leadership Practices at DePaul University
The William and Mary Pat Gannon Hay - Vincent de Paul Leadership Project (2006)
Abstract
The mission of St. Vincent de Paul was one that was absolutely clear and absolutely simple. His mission was to serve. His mission was to provide service that empowered. His mission was to provide service that liberated. That service was provided to human beings, to people whom he recognized as being his brothers and sisters. He also provided to communities because communities are made up of human beings and you can't liberate human beings, you can't empower human beings, without empowering and liberating the communities they are a part of. And so DePaul University continues that mission of service, that mission of empowerment, that mission of liberation as an institution of higher education in the education we provide our students and in the role we play as an institution and through our students in using education to empower and change society itself.
Citation Information
Marco Tavanti. "Continuing the Mission of St. Vincent de Paul: Insights on Vincentian Leadership Practices at DePaul University"
The William and Mary Pat Gannon Hay - Vincent de Paul Leadership Project
Vol. DVD (2006)
Available at: http://works.bepress.com/marcotavanti/31/