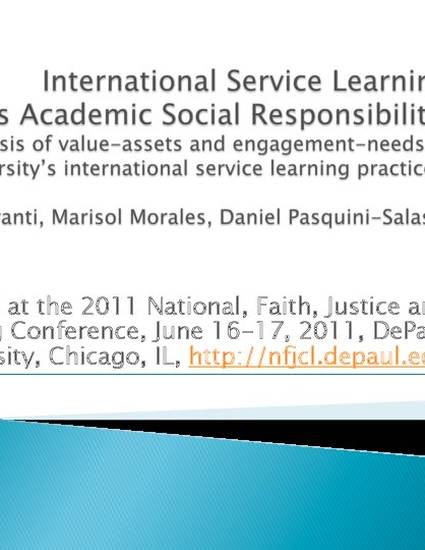 Presentation
International Service Learning as Academic Social Responsibility: An analysis of value-assets and engagement-needs of DePaul University's international service learning practices
National, Faith, Justice and Civic Learning Conference (2011)
Abstract
Academic institutions have a social responsibility toward local and international communities. International service learning is a practice that can exemplify the responsibility and possibilities that higher education institutions have to promote international/intercultural learning while contributing to sustainable community development. This research is based on the best practice analysis of DePaul University cases studies on international service learning engagement. What conceptual and practical lessons emerge from a best practice analysis of international service learning (ISL) academic programs at DePaul University? The Puerto Rico and Manila ISL programs offer important lessons for implementing effective international engagement models for graduate and undergraduate programs. The core message is that the educational values of ISL programs cannot be separated from the social-community relevance and the institutional commitment to partnering agencies. Therefore, the planning, programming and assessment of ISL academic programs must be reviewed not only in light of their educational fit and financial feasibility, but also from the perspective of community development and international public service.
Keywords
international public service,
International service learning,
community engagment
Publication Date
June 16, 2011
Citation Information
Marco Tavanti and Marisol Morales. "International Service Learning as Academic Social Responsibility: An analysis of value-assets and engagement-needs of DePaul University's international service learning practices"
National, Faith, Justice and Civic Learning Conference
(2011)
Available at: http://works.bepress.com/marcotavanti/30/