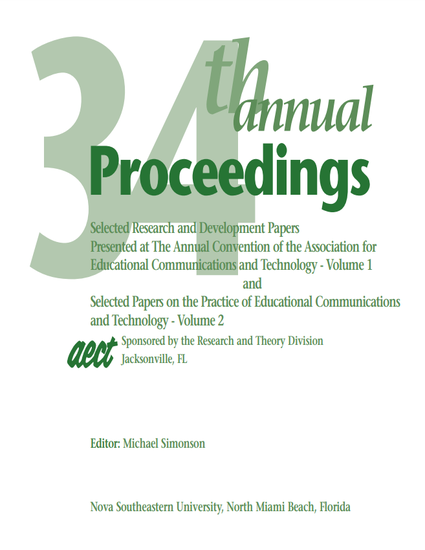 Contribution to Book
A Student Engagement Case Study
34th Annual Proceedings: Selected Reserach and Development Papers Presented at the Annual Convention of the Association for Educational Communications and Technology (2011)
Abstract
In 2006, the public was introduced to a new social networking platform bringing forth the first microblogging web-based communication tool known as Twitter (Ebner, Lienhardt, Rohs, & Meyer, 2010). This service has seen remarkable growth in popularity and pervasive use with approximately 200 million users to-date (Twitter, 2011). Twitter allows the public to follow media outlets publishing current events, popular personalities, and communicate with personal contacts, via the Internet, SMS texts, and mobile smart phone applications.
Citation Information
Lisa Giacumo, Todd Kisicki and Brad Bostick. "A Student Engagement Case Study"
34th Annual Proceedings: Selected Reserach and Development Papers Presented at the Annual Convention of the Association for Educational Communications and Technology
Vol. 1 (2011) p. 78 - 85
Available at: http://works.bepress.com/lisa_giacumo/3/