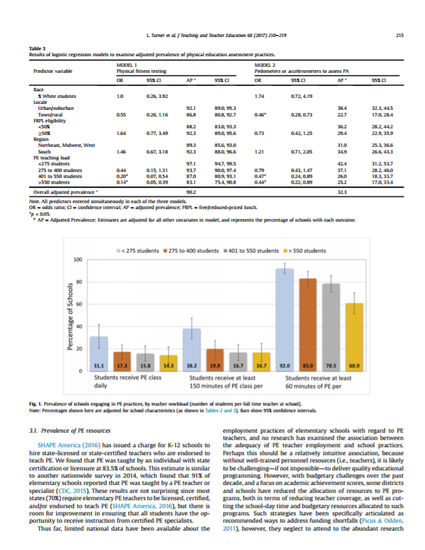 Article
Stretched Too Thin?: The Relationship Between Insufficient Resource Allocation and Physical Education Instructional Time and Assessment Practices
Teaching and Teacher Education
Publication Date
11-1-2017
DOI
https://doi.org/10.1016/j.tate.2017.09.007
Abstract
With provisions in the Every Student Succeeds Act, attention to physical education (PE) programs in school will be crucial for developing well-rounded students. We assessed the availability of resources that have the potential to impact PE (staffing, continuing education, annual PE equipment budgets) in a nationally-representative sample of 640 U.S. public elementary schools. Higher student-to-PE teacher ratios were associated with students not receiving adequate instruction. Equipment budgets were minimal (median = $500) and 30% of schools had no budget at all. Additional financial support from federal and state education agencies would help schools to better meet recommendations for PE.
Citation Information
Turner, Lindsey; Johnson, Tyler G.; Calvert, Hannah G.; and Chaloupka, Frank J. (2017). "Stretched Too Thin?: The Relationship Between Insufficient Resource Allocation and Physical Education Instructional Time and Assessment Practices".
Teaching and Teacher Education, 68
, 210-219.
https://doi.org/10.1016/j.tate.2017.09.007