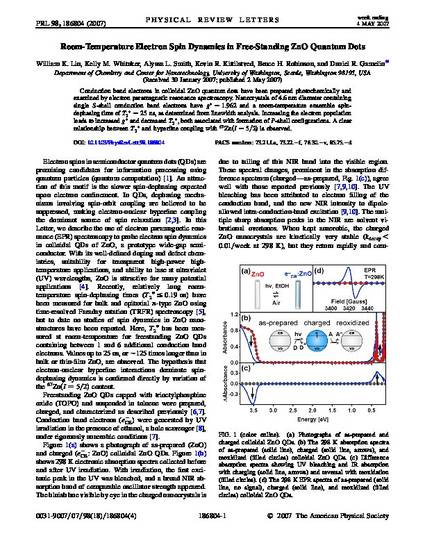 Article
Room-Temperature Electron Spin Dynamics in Free-Standing ZnO Quantum Dots
Physical Review Letters (2007)
Abstract
Conduction band electrons in colloidal ZnO quantum dots have been prepared photochemically and examined by electron paramagnetic resonance spectroscopy. Nanocrystals of 4.6 nm diameter containing single S-shell conduction band electrons have g*=1.962 and a room-temperature ensemble spin-dephasing time of T2*=25  ns, as determined from linewidth analysis. Increasing the electron population leads to increased g* and decreased T2*, both associated with formation of P-shell configurations. A clear relationship between T2* and hyperfine coupling with 67Zn(I=5/2) is observed.
Citation Information
W. K. Liu, K. M. Whitaker, A. L Smith, Kevin R. Kittilstved, et al.. "Room-Temperature Electron Spin Dynamics in Free-Standing ZnO Quantum Dots"
Physical Review Letters
Vol. 98 Iss. 18 (2007)
Available at: http://works.bepress.com/kevin_kittilstved/2/