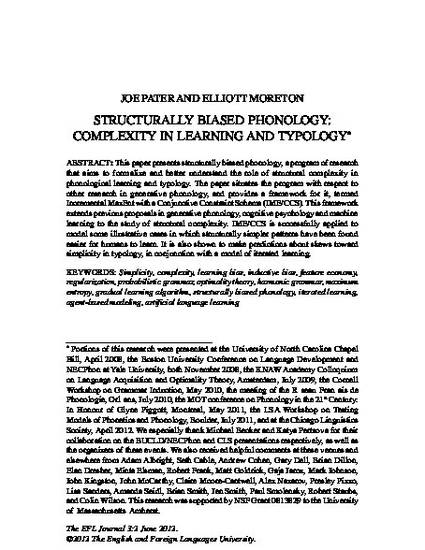 Article
Structurally Biased Phonology: Complexity in Learning and Topology
The EFL Journal (2012)
Abstract
This paper presents structurally biased phonology, a program of research that aims to formalize and better understand the role of structural complexity in phonological learning and typology. The paper situates the program with respect to other research in generative phonology, and provides a framework for it, termed Incremental MaxEnt with a Conjunctive Constraint Schema (IME/CCS). This framework extends previous proposals in generative phonology, cognitive psychology and machine learning to the study of structural complexity. IME/CCS is successfully applied to model some illustrative cases in which structurally simpler patterns have been found easier for humans to learn. It is also shown to make predictions about skews toward simplicity in typology, in conjunction with a model of iterated learning.
Keywords
Simplicity,
Complexity,
Learning Bias,
Inductive Bias,
Feature Economy,
Regularization,
Probabilistic Grammar,
Optimality Theory,
Harmonic Grammar,
Maximum Entropy,
Gradual Learning Algorithm,
Structurally Biased Phonology,
Iterated Learning,
Agent-Based Modeling,
Artificial Language Learning
Citation Information
Joe Pater and Elliott Moreton. "Structurally Biased Phonology: Complexity in Learning and Topology"
The EFL Journal
Vol. 3 Iss. 2 (2012) p. 1 - 44
Available at: http://works.bepress.com/joe_pater/26/