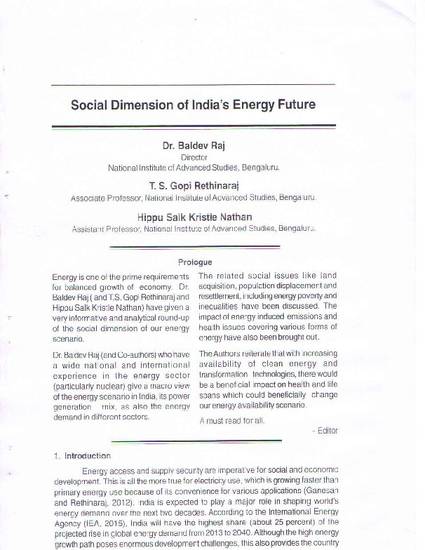 Article
Social dimension of India's energy future
RITES (2016)
Abstract
Energy is one of the prime requirements for balanced growth of economy. This paper gives an analytical round-up of the social dimension of our energy scenario. The paper starts with a macro view of the energy scenario in India, its power generation mix, as also the energy demand in different sectors. The related social issues like land acquisition, population displacement and resettlement, including energy poverty and inequalities have been discussed. The impact of energy induced emissions and health issues covering various forms of energy have also been brought out. With increasing availability of clean energy and transformation technologies, there would be a beneficial impact on health and life spans.
Keywords
energy access,
primary energy supply,
power generation mix,
land and displacement,
energy poverty,
energy inequality,
Indoor air pollution,
local air pollution,
global polluiton,
energy induced emission,
nuclear energy
Publication Date
January, 2016
Citation Information
Baldev Raj, TSG Rethinraj and Hippu Salk Kristle Nathan. "Social dimension of India's energy future"
RITES
Vol. 18 Iss. 1 (2016) p. 12.1 - 12.20
Available at: http://works.bepress.com/hippu/57/