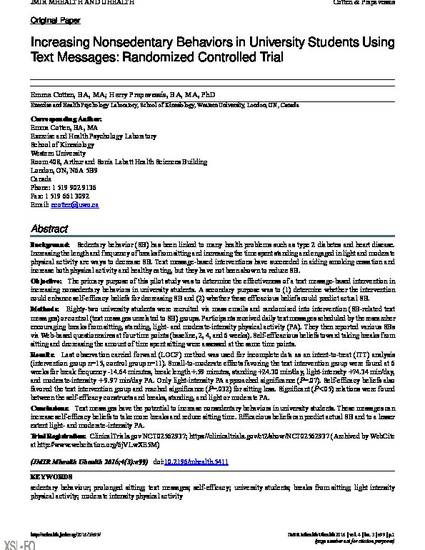 Article
Increasing Nonsedentary Behaviors in University Students Using Text Messages: Randomized Controlled Trial
JMIR Mhealth Uhealth
Publication Date
8-1-2016
URL with Digital Object Identifier
http://dx.doi.org/10.2196/mhealth.5411
Abstract
BACKGROUND: Sedentary behavior (SB) has been linked to many health problems such as type 2 diabetes and heart disease. Increasing the length and frequency of breaks from sitting and increasing the time spent standing and engaged in light and moderate physical activity are ways to decrease SB. Text message-based interventions have succeeded in aiding smoking cessation and increase both physical activity and healthy eating, but they have not been shown to reduce SB.
OBJECTIVE: The primary purpose of this pilot study was to determine the effectiveness of a text message-based intervention in increasing nonsedentary behaviors in university students. A secondary purpose was to (1) determine whether the intervention could enhance self-efficacy beliefs for decreasing SB and (2) whether these efficacious beliefs could predict actual SB.
METHODS: Eighty-two university students were recruited via mass emails and randomized into intervention (SB-related text messages) or control (text messages unrelated to SB) groups. Participants received daily text messages scheduled by the researcher encouraging breaks from sitting, standing, light- and moderate-intensity physical activity (PA). They then reported various SBs via Web-based questionnaires at four time points (baseline, 2, 4, and 6 weeks). Self-efficacious beliefs toward taking breaks from sitting and decreasing the amount of time spent sitting were assessed at the same time points.
RESULTS: Last observation carried forward (LOCF) method was used for incomplete data as an intent-to-treat (ITT) analysis (intervention group n=15, control group n=11). Small-to-moderate effects favoring the text intervention group were found at 6 weeks for break frequency -14.64 minutes, break length +.59 minutes, standing +24.30 min/day, light-intensity +74.34 min/day, and moderate-intensity + 9.97 min/day PA. Only light-intensity PA approached significance (P=.07). Self-efficacy beliefs also favored the text intervention group and reached significance (P=.032) for sitting less. Significant (P
CONCLUSIONS: Text messages have the potential to increase nonsedentary behaviors in university students. These messages can increase self-efficacy beliefs to take more breaks and reduce sitting time. Efficacious beliefs can predict actual SB and to a lesser extent light- and moderate-intensity PA.
TRIAL REGISTRATION: ClinicalTrials.gov NCT02562937; https://clinicaltrials.gov/ct2/show/NCT02562937 (Archived by WebCite at http://www.webcitation.org/6jVLwXE5M).
Citation Information
Emma Cotten and Harry Prapavessis. "Increasing Nonsedentary Behaviors in University Students Using Text Messages: Randomized Controlled Trial"
JMIR Mhealth Uhealth
Vol. 4 Iss. 3 (2016)
Available at: http://works.bepress.com/harry-prapavessis/15/