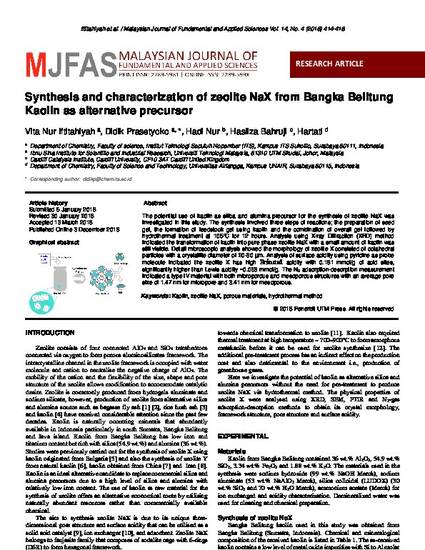 Article
Synthesis and characterization of zeolite NaX from Bangka Belitung Kaolin as alternative precursor
Malaysian Journal of Fundamental and Applied Sciences (2018)
Abstract
The potential use of kaolin as silica and alumina precursor for the synthesis of zeolite NaX was investigated in this study. The synthesis involved three steps of reactions; the preparation of seed gel, the formation of feedstock gel using kaolin and the combination of overall gel followed by hydrothermal treatment at 105°C for 12 hours. Analysis using X-ray Diffraction (XRD) method indicated the transformation of kaolin into pure phase zeolite NaX with a small amount of kaolin was still visible. Detail microscopic analysis showed the morphology of zeolite X consisted of octahedral particles with a crystallite diameter of 20-30 µm. Analysis of surface acidity using pyridine as probe molecule indicated the zeolite X has high Brǿnsted acidity with 0.181 mmol/g of acid sites, significantly higher than Lewis acidity ~0.053 mmol/g. The N2 adsorption-desorption measurement indicated a type IV material with both microporous and mesoporous structures with an average pore size of 1.47 nm for micropore and 3.41 nm for mesoporous.
Keywords
Kaolin,
zeolite NaX,
porous materials,
hydrothermal method
Citation Information
Vita Nur Iftitahiyah, Didik Prasetyoko, Hadi Nur, Hasliza Bahruji, et al.. "Synthesis and characterization of zeolite NaX from Bangka Belitung Kaolin as alternative precursor"
Malaysian Journal of Fundamental and Applied Sciences
Vol. 14 Iss. 4 (2018) p. 414 - 418
Available at: http://works.bepress.com/hadi_nur/147/