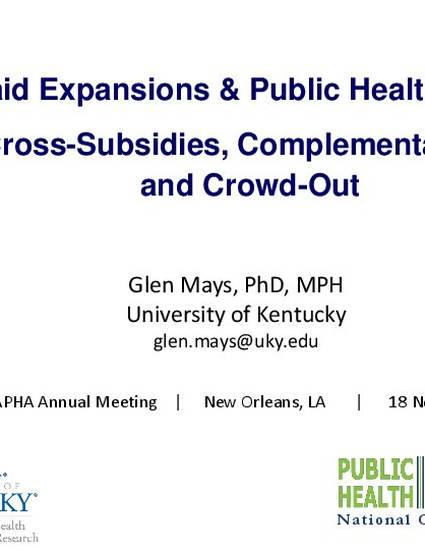 Presentation
Medicaid Expansions & Public Health Spending: Cross-Subsidies, Complementarities, and Crowd-Out
American Public Health Association Annual Meeting (2014)
Abstract
In this paper we estimate the causal impact of state Medicaid enrollment expansions and expenditures on state and local resources allocated to other public health programs and services. Using a quasi-experimental design with instrumental variables estimation, we find evidence that increased Medicaid spending leads to reduced governmental spending on other public health services, consistent with a crowd-out effect. Over 10 years, such crowd-out has the potential to diminish the health status improvements generated through health insurance coverage expansions.
Publication Date
Fall November 17, 2014
Citation Information
Glen Mays. "Medicaid Expansions & Public Health Spending: Cross-Subsidies, Complementarities, and Crowd-Out"
American Public Health Association Annual Meeting
(2014)
Available at: http://works.bepress.com/glen_mays/181/