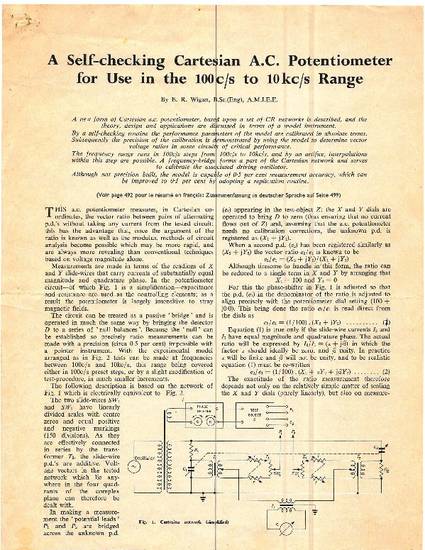 Article
A Self-Checking Cartesian A/C Potentiometer for Use in the 100c/s to 10 kc/s Range
Electronic Engineering (1965)
Abstract
A new
form of
Cartesian a.c.
potentiometer, base upon a
set
of CR networks is described, and the theory
,
design and applications are di cussed in terms
of
a
model
instrument.
By a self-checking routine the performance para eters of the model are
calibrated
in absolute terms. Subsequently the precision
of
the
calibration
is monstrated by using the model
to
determine vector
volta
g
e
ratios in
some circui
of
critical
performance.
The frequency range runs
in 1
00 c/s
steps
from 100 c/s
to 10 k
c/s, and by an artifice
interpolations
within this step are possible.
A
frequency-bridge forms a part of
the
Cartesian
network
and serves to calibrate the associated driving oscillator. Although not precision built, the model is
capab
le of 0·5 per cent measurement accuracy, which can be improved to 0·1 per cent by adopting a replication routine.
Keywords
Electrical,
Measurement,
Potentiometer
Publication Date
Summer July, 1965
Citation Information
Edmund Ramsay Wigan. "A Self-Checking Cartesian A/C Potentiometer for Use in the 100c/s to 10 kc/s Range"
Electronic Engineering
(1965) p. 442 - 449
Available at: http://works.bepress.com/edmund-wigan/22/