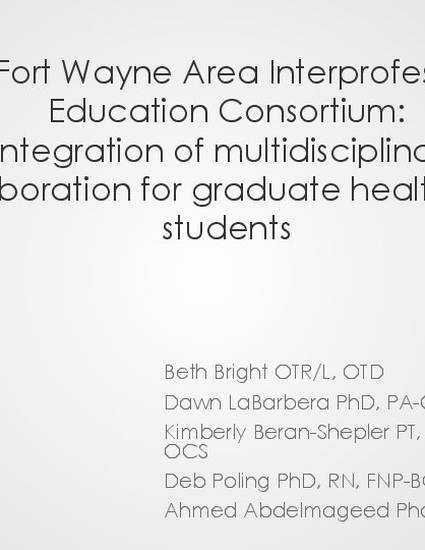 Presentation
The Fort Wayne Area Interprofessional Education Consortium: Integration of multidisciplinary collaboration for graduate health care students
Fort Wayne Area Teachers Conference
Document Type
Presentation
Presentation Date
2-26-2015
Conference Name
Fort Wayne Area Teachers Conference
Conference Location
Fort Wayne, IN
Abstract
Interprofessional education (IPE) is an essential component of teamwork and collaboration as recommended by the Pew Health Professions Commission, the Institute of Healthcare Improvement and itute of Medicine. IPE is now mandated by accrediting organizations in healthcare education. Research has linked IPE to a reduction in patient deaths, sentinel events and health care costs. The Fort Wayne Area Interprofessional Education Consortium FWAIPEC) presents its unique four year local collaboration across multiple educational entities for the tion of graduate health care students. FWAIPEC started with five distinct graduate medical education institutions representing programs for pharmacy, physician assistant, nurse practitioner, nurse educator, nurse executive, medical student and family practice residency and has grown to include the new occupational therapy and physical therapy programs. The consortium successfully conducts a three-session IPE seminar series for its first year students. FWAIPEC continues to develop curriculum for a second year program. From its roots of about 60 learners a session to approximately 250 learners a session, FWAIPEC is piloting curriculum to reach other local health care learners. Participants will learn about FWAIPEC's curriculum concepts, tips from lessons learned and may extrapolate FWAIPEC experiences to their respective fields to consider how collaboration may benefit their students.
Citation Information
Beth Bright, Dawn LaBarbe, Kimberly Beran - Shepler, Deborah Poling, et al.. "The Fort Wayne Area Interprofessional Education Consortium: Integration of multidisciplinary collaboration for graduate health care students"
Fort Wayne Area Teachers Conference
(2015)
Available at: http://works.bepress.com/deborah_poling/41/