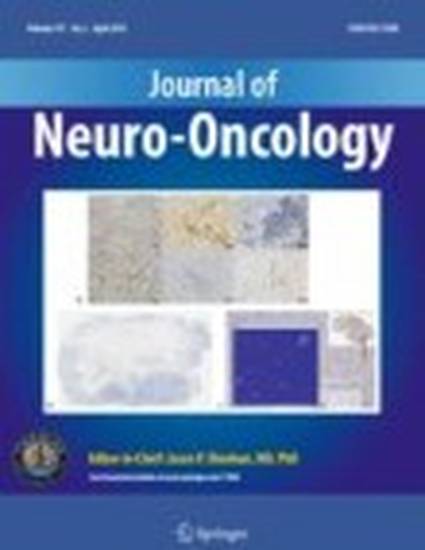 Article
Immune checkpoint inhibition for pediatric patients with recurrent/refractory CNS tumors: a single institution experience
Journal of Neuro-Oncology (2020)
Abstract
Introduction
Immune checkpoint inhibition through PD-1 and CTLA-4 blockade has shown efficacy in some adult malignancies and generated interest in pediatrics, including central nervous system (CNS) tumors. We describe our experience with immune checkpoint inhibition in recurrent/refractory pediatric CNS tumors.
Methods
We performed a retrospective chart review of pediatric patients with recurrent or refractory CNS tumors treated with ipilimumab, nivolumab and/or pembrolizumab at Dana-Farber/Boston Children's Hospital between 2018 and 2019.
Results
Eleven patients were identified. Diagnoses included diffuse intrinsic pontine glioma (DIPG) (n = 2), high-grade glioma (HGG) (n = 5), ependymoma (n = 1), craniopharyngioma (n = 1), high-grade neuroepithelial tumor (n = 1) and non-germinomatous germ cell tumor (NGGCT) (n = 1). Eight patients had recurrent disease, while three had refractory disease. Nine patients received combination therapy (ipilimumab/nivolumab); two patients received either nivolumab or pembrolizumab. Median time from diagnosis-to-treatment was 8 months (range 0.8–156). All patients received prior radiation therapy (RT), with median time from RT-to-immunotherapy was 3.8 years. One patient received concurrent then adjuvant immunotherapy with RT. Median duration of treatment was 6.1 months (range 1–25). Therapy was discontinued in nine patients: seven due to disease progression and two due to toxicity (colitis; transaminitis). Other pertinent toxicities included Type 1 diabetes mellitus, hypothyroidism and skin toxicity. Based on iRANO criteria, best responses included partial response (n = 3), stable disease (n = 7) and progressive disease (n = 1). Durable response was noted in two patients.
Conclusion
Immune checkpoint inhibition was relatively well tolerated in a cohort of pediatric patients spanning several CNS tumor diagnoses. Results from prospective clinical trials will be critical to inform clinical decisions.
Citation Information
Chantel Cacciotti, Jungwhan Choi Choi, Sanda Alexandrescu, Mary Ann Zimmerman, et al.. "Immune checkpoint inhibition for pediatric patients with recurrent/refractory CNS tumors: a single institution experience"
Journal of Neuro-Oncology
(2020)
Available at: http://works.bepress.com/chantel-cacciotti/1/