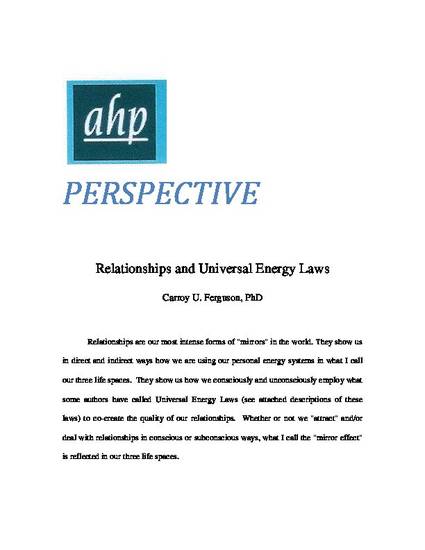 Article
Relationships and Universal Energy Laws
AHP Perspective (2000)
Abstract
Relationships are our most intense forms of "mirrors" in the world. They show us in direct and indirect ways how we are using our personal energy systems in what I call our three life spaces. They show us how we consciously and unconsciously employ what some authors have called Universal Energy Laws (see attached descriptions of these laws) to co-create the quality of our relationships. Whether or not we "attract" and/or deal with relationships in conscious or subconscious ways, what I call the "mirror effect" is reflected in our three life spaces—personal life space, societal life space, and global life space.
Keywords
Consciousness; Human & Race Relations; Empowerment; Psychology of Self; Perception; Perspectives; Evolution; Culture
Publication Date
Winter January, 2000
Citation Information
carroy u ferguson. "Relationships and Universal Energy Laws"
AHP Perspective
(2000)
Available at: http://works.bepress.com/carroy_ferguson/25/