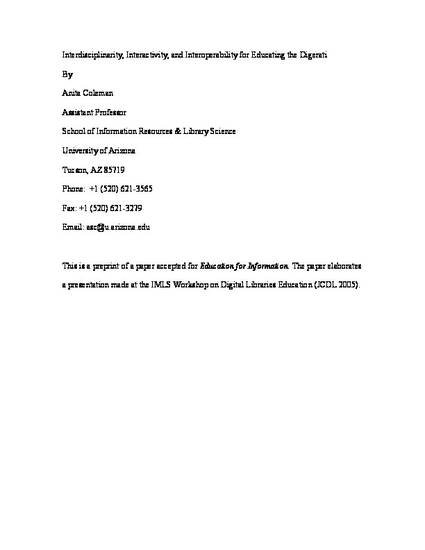 Article
Interdisciplinarity, interactivity, and interoperability for educating the digerati
Education for Information (2005)
Abstract
As networked digital information proliferates and modern society's need to have access to information
irrespective of location rises, the education needed for the digerati, defined loosely as the digital  intelligentsia, the whole class of expert digital information professionals, becomes an important area about which all information professionals should stay informed. This paper describes the three concepts  – interdisciplinarity, interactivity, and interoperability – that are an integral part of digital library research and their use in the curriculum development, teaching, and learning of a specific area of study  within Library and Information Science (LIS), namely knowledge organization (KO). KO, studied intellectually, self-referentially, and immersively, it is argued, can provide the foundation for the modern digerati.
Keywords
Library and Information Science Education
Publication Date
December, 2005
DOI
10.3233/EFI-2005-23402
Citation Information
Anita S. Coleman. "Interdisciplinarity, interactivity, and interoperability for educating the digerati"
Education for Information
Vol. 23 Iss. 4 (2005) p. 233 - 243 ISSN: 0167-8329
Available at: http://works.bepress.com/anita-coleman/7/