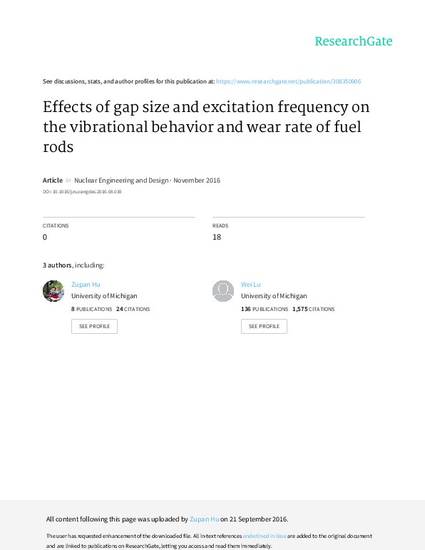 Article
Effects of gap size and excitation frequency on the vibrational behavior and wear rate of fuel rods
Nuclear Engineering and Design (2016)
Abstract
Grid-to-rod fretting (GTRF) wear is a major cause of fuel leaks. Understanding its mechanism is crucial for improving the reliability of nuclear reactors. In this paper we present a three-dimensional, finite-element based approach, which reveals how the wear rate depends on the size of the gap between the grid and the fuel rod, and on the frequency of the excitation force. We show that these two factors affect the dynamic vibration of the rod, which leads to three different regimes: harmonic, period-doubling and chaotic. The wear rate in the harmonic regime is significantly larger than that in the other two regimes, and reaches a maximum when the excitation frequency is close to the resonant frequency of the system, which is dependent on the gap size. We introduce the concept of a critical gap size that gives the maximum wear rate, and we identify the properties and values of this critical gap size. A wear map is developed as a result of a large number of parametric studies. This map shows quantitatively the wear rate as a function of the gap size and excitation frequency, and will be a valuable tool for the design and optimization of the fuel assembly to reduce the risk of fuel leaks caused by GTRF.
Publication Date
Fall September 17, 2016
DOI
10.1016/j.nucengdes.2016.08.038.
Citation Information
Hu Z, Thouless M D, Lu W. Effects of gap size and excitation frequency on the vibrational behavior and wear rate of fuel rods[J]. Nuclear Engineering and Design, 2016, 308: 261-268.