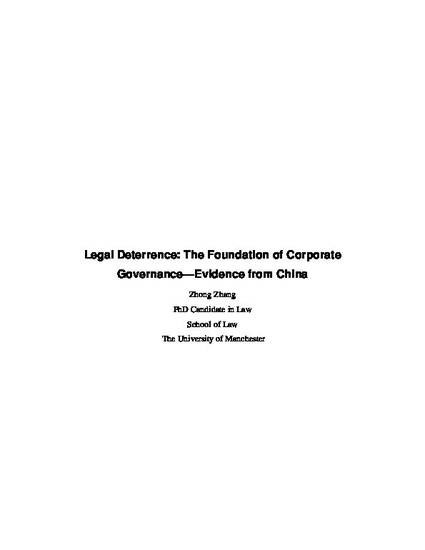 Article
Legal Deterrence: The Foundation of Corporate Governance—Evidence from China
Corporate Governance: An International Review (2007)
Abstract
To evaluate the Chinese government's recent market-orientated efforts to promote good corporate governance, this paper conducts a re-examination of the working mechanics for market competition and other market-based governance mechanisms to ensure good corporate governance. The finding is that the utility of market mechanisms may have been overstated. Not only are they not effective in disciplining serious one-off managerial misbehaviour which offers managers more gains than losses, even their limited value to discourage such misbehaviour as managerial shirking is also conditioned upon a successful curb on one-off misbehaviour. On the contrary, the importance of deterrence from legal liability may have been underestimated. Sufficient legal deterrence is the only effective way to curtail one-off managerial misbehaviour which is highly detrimental to corporate success. In addition, by deterring such misbehaviour, it provides for the condition upon which market mechanisms may function properly to discourage managerial shirking. In light of this, legal deterrence can be said fundamental to good corporate governance. Current experience of corporate governance from China conforms to this finding and poor corporate governance in China is better explained by the lack of credible legal deterrence. This being so, the top priority for China is to strengthen legal sanction in order to rein in excessive misappropriation and flagrant fraud. Only once this has been done will the efforts to undertake market-orientated reform yield the sought results.
Citation Information
Zhong Zhang. "Legal Deterrence: The Foundation of Corporate Governance—Evidence from China"
Corporate Governance: An International Review
Vol. 15 Iss. 5 (2007)
Available at: http://works.bepress.com/zhong_zhang/2/