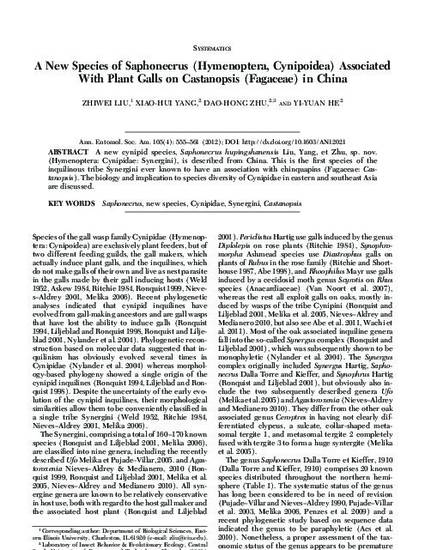 Article
A New Species of Saphonecrus (Hymenoptera, Cynipoidea) Associated With Plant Galls on Castanopsis (Fagaceae) in China
Annals of the Entomological Society of America (2012)
Abstract
A new cynipid species, Saphonecrus hupingshanensis Liu, Yang, et Zhu, sp. nov. (Hymenoptera: Cynipidae: Synergini), is described from China. This is the first species of the inquilinous tribe Synergini ever known to have an association with chinquapins (Fagaceae: Castanopsis). The biology and implication to species diversity of Cynipidae in eastern and southeast Asia are discussed.
Keywords
Saphonecrus,
new species,
Cynipidae,
Synergini,
Castanopsis
Publication Date
July, 2012
Citation Information
Zhiwei Liu, Xiao-Hui Yang, Dao-Hong Zhu and Yi-Yuan He. "A New Species of Saphonecrus (Hymenoptera, Cynipoidea) Associated With Plant Galls on Castanopsis (Fagaceae) in China"
Annals of the Entomological Society of America
Vol. 105 Iss. 4 (2012)
Available at: http://works.bepress.com/zhiwei_liu/1/