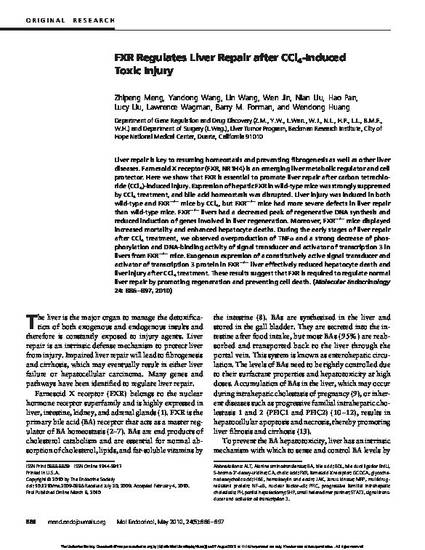 Article
FXR regulates liver repair after CCl4-induced toxic injury
Molecular Endocrinology (2010)
Abstract
Liver repair is key to resuming homeostasis and preventing fibrogenesis as well as other liver diseases. Farnesoid X receptor (FXR, NR1H4) is an emerging liver metabolic regulator and cell protector. Here we show that FXR is essential to promote liver repair after carbon tetrachloride (CCl(4))-induced injury. Expression of hepatic FXR in wild-type mice was strongly suppressed by CCl(4) treatment, and bile acid homeostasis was disrupted. Liver injury was induced in both wild-type and FXR(-/-) mice by CCl(4), but FXR(-/-) mice had more severe defects in liver repair than wild-type mice. FXR(-/-) livers had a decreased peak of regenerative DNA synthesis and reduced induction of genes involved in liver regeneration. Moreover, FXR(-/-) mice displayed increased mortality and enhanced hepatocyte deaths. During the early stages of liver repair after CCl(4) treatment, we observed overproduction of TNFalpha and a strong decrease of phosphorylation and DNA-binding activity of signal transducer and activator of transcription 3 in livers from FXR(-/-) mice. Exogenous expression of a constitutively active signal transducer and activator of transcription 3 protein in FXR(-/-) liver effectively reduced hepatocyte death and liver injury after CCl(4) treatment. These results suggest that FXR is required to regulate normal liver repair by promoting regeneration and preventing cell death.
Citation Information
Zhipeng Meng. "FXR regulates liver repair after CCl4-induced toxic injury"
Molecular Endocrinology
(2010)
Available at: http://works.bepress.com/zhipeng-meng/7/