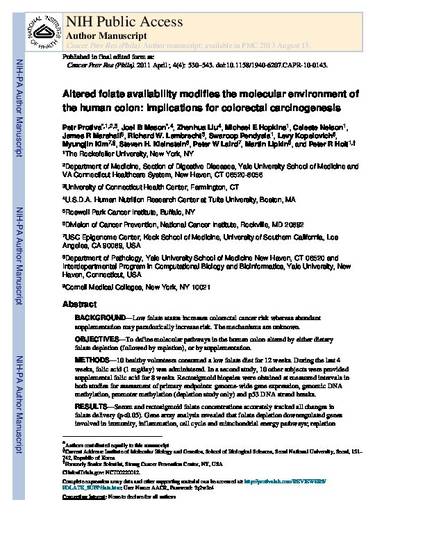 Article
Altered Folate Availability Modifies the Molecular Environment of the Human Colon: Implications for Colorectal Carcinogenesis
Cancer Prevention Research (2011)
Abstract
BACKGROUND—Low folate status increases colorectal cancer risk whereas abundant supplementation may paradoxically increase risk. The mechanisms are unknown. OBJECTIVES—To define molecular pathways in the human colon altered by either dietary folate depletion (followed by repletion), or by supplementation. METHODS—10 healthy volunteers consumed a low folate diet for 12 weeks. During the last 4 weeks, folic acid (1 mg/day) was administered. In a second study, 10 other subjects were provided supplemental folic acid for 8 weeks. Rectosigmoid biopsies were obtained at measured intervals in both studies for assessment of primary endpoints: genome-wide gene expression, genomic DNA methylation, promoter methylation (depletion study only) and p53 DNA strand breaks. RESULTS—Serum and rectosigmoid folate concentrations accurately tracked all changes in folate delivery (p<0.05). Gene array analysis revealed that folate depletion downregulated genes involved in immunity, inflammation, cell cycle and mitochondrial energy pathways; repletion produced reversal in most instances. Similarly, supplementation upregulated multiple inflammatory- and immune-related pathways, and in addition altered several 1-carbon related enzymes (p<0.001). Neither genomic or promoter-specific DNA methylation changed over the course of the depletion/repletion protocol; nor did genomic methylation change due to supplementation. p53 strand breaks increased with depletion after 12 weeks. CONCLUSIONS—Depletion downregulates, whereas repletion or supplementation upregulates, pathways related to inflammation and immune response. Supplementation also altered expression of several pivotal genes involved in 1-carbon metabolism. These changes occurred in the absence of changes in gene methylation. Modest changes in folate delivery create substantial changes in the molecular milieu of the human colon.
Keywords
folic acid,
folate depletion,
folate supplementation,
colonic carcinogenesis,
one carbon metabolism,
inflammation,
gene expression profiling,
DNA methylation
Publication Date
April, 2011
Citation Information
Petr Protiva, Joel B. Mason, Zhenhua Liu, Michael E. Hopkins, et al.. "Altered Folate Availability Modifies the Molecular Environment of the Human Colon: Implications for Colorectal Carcinogenesis"
Cancer Prevention Research
Vol. 4 Iss. 4 (2011)
Available at: http://works.bepress.com/zhenhua_liu/3/