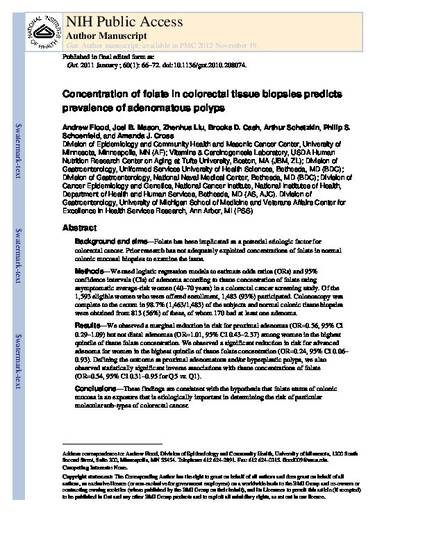 Article
Concentration of Folate in Colorectal Tissue Biopsies Predicts Prevalence of Adenomatous Polyps
Gut (2011)
Abstract
Background and aims—Folate has been implicated as a potential etiologic factor for colorectal cancer. Prior research has not adequately exploited concentrations of folate in normal colonic mucosal biopsies to examine the issue. Methods—We used logistic regression models to estimate odds ratios (ORs) and 95% confidence intervals (CIs) of adenoma according to tissue concentration of folate using asymptomatic average-risk women (40–70 years) in a colorectal cancer screening study. Of the 1,593 eligible women who were offered enrollment, 1,483 (93%) participated. Colonoscopy was complete to the cecum in 98.7% (1,463/1,483) of the subjects and normal colonic tissue biopsies were obtained from 813 (56%) of these, of whom 170 had at least one adenoma. Results—We observed a marginal reduction in risk for proximal adenomas (OR=0.56, 95% CI 0.29–1.09) but not distal adenomas (OR=1.01, 95% CI 0.43–2.37) among women in the highest quintile of tissue folate concentration. We observed a significant reduction in risk for advanced adenoma for women in the highest quintile of tissue folate concentration (OR=0.24, 95% CI 0.06–0.93). Defining the outcome as proximal adenomatous and/or hyperplastic polyps, we also observed statistically significant inverse associations with tissue concentrations of folate (OR=0.54, 95% CI 0.31–0.95 for Q5 vs. Q1). Conclusions—These findings are consistent with the hypothesis that folate status of colonic mucosa is an exposure that is etiologically important in determining the risk of particular molecular sub-types of colorectal cancer.
Keywords
adenoma,
folic acid,
DNA microsatellite instability,
colon carcinogenesis,
methylation
Publication Date
January, 2011
Citation Information
Andrew Flood, Joel B. Mason, Zhenhua Liu, Brooks D. Cash, et al.. "Concentration of Folate in Colorectal Tissue Biopsies Predicts Prevalence of Adenomatous Polyps"
Gut
Vol. 60 Iss. 1 (2011)
Available at: http://works.bepress.com/zhenhua_liu/2/