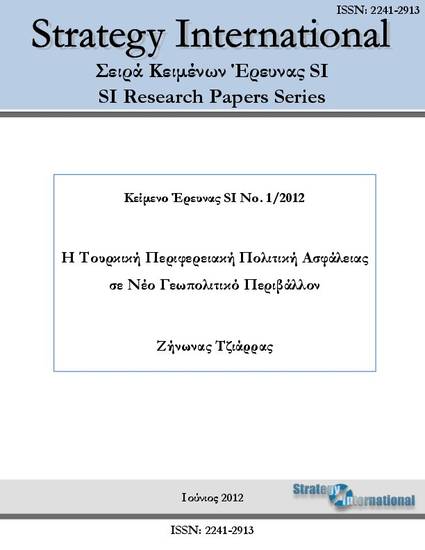 Unpublished Paper
Η Τουρκική Περιφερειακή Πολιτική Ασφάλειας σε Νέο Γεωπολιτικό Περιβάλλον
SI Research Papers, No. 1/2012, Strategy International (2012)
Abstract
Το 2011 μπορεί να χαρακτηριστεί δικαίως ως μια χρονιά ορόσημο για τις διεθνείς σχέσεις και ειδικότερα για τη Μέση Ανατολή και τον Αραβικό κόσμο. Όντας στην καρδιά των αραβικών εξεγέρσεων και άλλων περιφερειακών φλεγόντων ζητημάτων, η Τουρκία δεν θα μπορούσε να μείνει ανεπηρέαστη αλλά ούτε και παθητική απέναντι στις αλλαγές που επήλθαν γειτονιά της. Κάνοντας αναφορές στο «δόγμα Νταβούτογλου» της τουρκικής εξωτερικής πολιτικής και στην εξέλιξή του κατά την τελευταία δεκαετία, η παρούσα μελέτη εξετάζει την προσαρμογή της τουρκικής περιφερειακής πολιτικής ασφάλειας στο νέο γεωπολιτικό περιβάλλον που αναδύεται στην Μέση Ανατολή και την Ανατολική Μεσόγειο. Καταλήγει στις αδυναμίες και τις προκλήσεις της τουρκικής εξωτερικής πολιτικής καθώς και στις προοπτικές της. The year 2011 could be justifiably characterized as a milestone for international relations and particularly for the Middle East and the Arab world. Turkey, being at the heart the "Arab Spring" as well as other critical regional issues, could not have remained unaffected or passive toward the changes that have occurred in its neighborhood. With references to the "Davutoglu doctrine" of Turkish foreign policy and its development throughout the last decade, this paper examines the adaptation of Turkish regional security policy in the new geopolitical environment that is emerging in the Middle East and the Eastern Mediterranean. It concludes at the weaknesses and the challenges of Turkish foreign policy as well as its prospects.
Keywords
Τουρκία,
Τουρκική Εξωτερική Πολιτική,
Μέση Ανατολή,
Αραβικές Εξεγέρσεις,
Συρία,
Ιράν,
Ισραήλ,
Κουρδικό,
Ανατολική Μεσόγειος
Publication Date
June, 2012
Citation Information
Zenonas Tziarras. "Η Τουρκική Περιφερειακή Πολιτική Ασφάλειας σε Νέο Γεωπολιτικό Περιβάλλον"
SI Research Papers, No. 1/2012, Strategy International
(2012)
Available at: http://works.bepress.com/zenonas_tziarras/25/