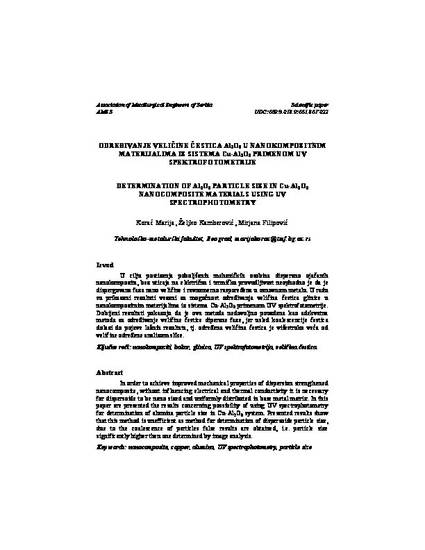 Article
DETERMINATION OF Al2O3 PARTICLE SIZE IN Cu-Al2O3 NANOCOMPOSITE MATERIALS USING UV SPECTROPHOTOMETRY
Association of Metallurgical Engineers of Serbia (2008)
Abstract
In order to achieve improved mechanical properties of dispersion strengthened nanocomposite, without influencing electrical and thermal conductivity it is necessary for dispersoide to be nano sized and uniformly distributed in base metal matrix. In this paper are presented the results concerning possibility of using UV spectrophotometry for determination of alumina particle size in Cu-Al2O3 system. Presented results show that this method is unefficient as method for determination of dispersoide particle size, due to the coalescence of particles false results are obtained, i.e. particle size significantly higher then one determined by image analysis.
Keywords
nanocomposite,
copper,
alumina,
UV spectrophotometry,
particle size
Citation Information
Zeljko J Kamberovic. "DETERMINATION OF Al2O3 PARTICLE SIZE IN Cu-Al2O3 NANOCOMPOSITE MATERIALS USING UV SPECTROPHOTOMETRY"
Association of Metallurgical Engineers of Serbia
Vol. Vol 14 Iss. 4 (2008)
Available at: http://works.bepress.com/zeljko_kamberovic/20/