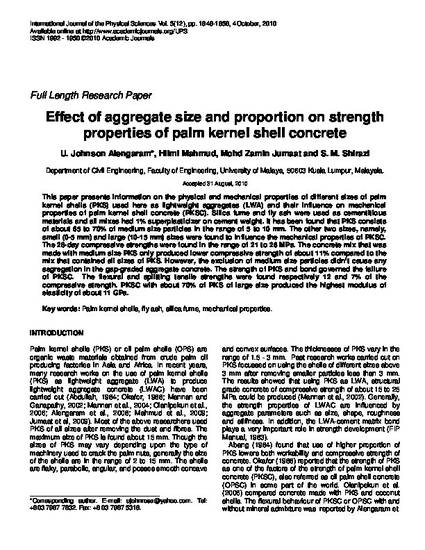 Article
Effect of aggregate size and proportion on strength properties of palm kernel shell concrete
International Journal of the Physical Sciences (2010)
Abstract
This paper presents information on the physical and mechanical properties of different sizes of palm kernel shells (PKS) used here as lightweight aggregates (LWA) and their influence on mechanical properties of palm kernel shell concrete (PKSC). Silica fume and fly ash were used as cementitious materials and all mixes had 1% superplasticizer on cement weight. It has been found that PKS consists of about 65 to 70% of medium size particles in the range of 5 to 10 mm. The other two sizes, namely, small (0-5 mm) and large (10-15 mm) sizes were found to influence the mechanical properties of PKSC. The 28-day compressive strengths were found in the range of 21 to 26 MPa. The concrete mix that was made with medium size PKS only produced lower compressive strength of about 11% compared to the mix that contained all sizes of PKS. However, the exclusion of medium size particles didn't cause any segregation in the gap-graded aggregate concrete. The strength of PKS and bond governed the failure of PKSC. The flexural and splitting tensile strengths were found respectively 12 and 7% of the compressive strength. PKSC with about 70% of PKS of large size produced the highest modulus of elasticity of about 11 GPa.
Keywords
palm kernel shells,
fly ash,
silica fume,
mechanical properties,
ops.
Citation Information
Zamin Jumaat. "Effect of aggregate size and proportion on strength properties of palm kernel shell concrete"
International Journal of the Physical Sciences
Vol. 5 Iss. 12 (2010)
Available at: http://works.bepress.com/zamin_jumaat/3/