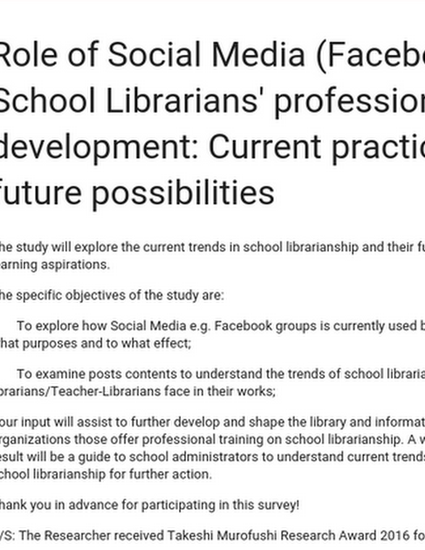 Unpublished Paper
Social Media for School Librarians' professional development: Current practices and future possibilities
(2017)
Abstract
Social Media is increasingly embedded in many areas of life as a powerful platform for discussion, entertainment, communication, news source, advertisement and social influence. The remarkable development of Social Media (SM) based interactions has affected School Library Professionals (SLPs) too, who now utilize different forms of SM for different purposes such as professional development (PD) and career search. The purpose of the study was to explore whether and how social media add value to the complex process of school librarians' professional development. The successive objectives were to understand the current trends in school librarianship and SLPs future professional learning aspirations.
An online questionnaire was posted on selected Facebook groups and sent to a couple of school librarians' listservs, and 323 usable responses were received. The main findings indicated a vast majority of SLPs used Facebook (70%) as a PD platform following Twitter (49.7%), Blogs (44.1%) and Pinterest (32.8%). In addition, 47.7% SLPs indicated they follow 1-3 professional Facebook groups and 54.3% spend 1-2 hours per week for PD on Facebook. Roughly three-quarters (75%) survey participants shared they prefer to see the posts related to teaching resources, and 63% desire on professional seminar/conference news which imply the current professional development trends of SLPs. Research skills tips and resources (68.6%), professional workshops and conferences (52.4%), and how to cooperate and collaborate with classroom teachers (47.2%) are found top future professional learning aspirations of SLPs.
A good number of SLPs (38.6%) rated Facebook groups a good platform to develop their professional learning or networking and 38% regarded Facebook groups empower and enhance their professional practice. However, surprisingly 14.3% SLPs do not use Facebook for PD and 57.2% and 47% respectively indicated the main problems faced were lack of time and too many posts to read or to explore. 
Keywords
School librarian,
Facebook,
Social media,
Teacher-Librarian,
Professional development
Publication Date
Summer August 5, 2017
Citation Information
Zakir Hossain. "Social Media for School Librarians' professional development: Current practices and future possibilities" (2017)
Available at: http://works.bepress.com/zakir_hossain/29/
Creative Commons License
This work is licensed under a Creative Commons CC_BY-NC-SA International License.