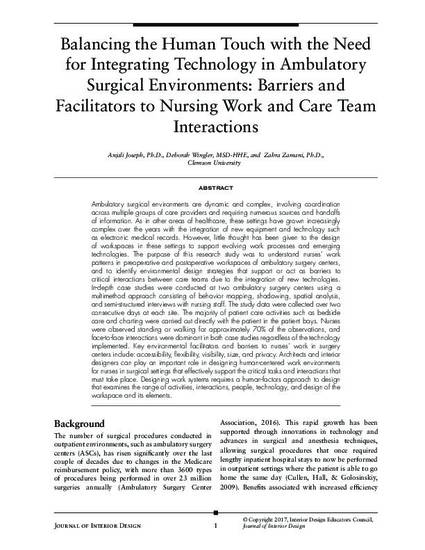 Article
Balancing the Human Touch with the Need for Integrating Technology in Ambulatory Surgical Environments: Barriers and Facilitators to Nursing Work and Care Team Interactions
Journal of Interior Design (2017)
Abstract
Ambulatory surgical environments are dynamic and complex, involving coordination
across multiple groups of care providers and requiring numerous sources and handoffs
of information. As in other areas of healthcare, these settings have grown increasingly
complex over the years with the integration of new equipment and technology such
as electronic medical records. However, little thought has been given to the design
of workspaces in these settings to support evolving work processes and emerging
technologies. The purpose of this research study was to understand nurses' work
patterns in preoperative and postoperative workspaces of ambulatory surgery centers,
and to identify environmental design strategies that support or act as barriers to
critical interactions between care teams due to the integration of new technologies.
In-depth case studies were conducted at two ambulatory surgery centers using a
multimethod approach consisting of behavior mapping, shadowing, spatial analysis,
and semi-structured interviews with nursing staff. The study data were collected over two
consecutive days at each site. The majority of patient care activities such as bedside
care and charting were carried out directly with the patient in the patient bays. Nurses
were observed standing or walking for approximately 70% of the observations, and
face-to-face interactions were dominant in both case studies regardless of the technology
implemented. Key environmental facilitators and barriers to nurses' work in surgery
centers include: accessibility, flexibility, visibility, size, and privacy. Architects and interior
designers can play an important role in designing human-centered work environments
for nurses in surgical settings that effectively support the critical tasks and interactions that
must take place. Designing work systems requires a human-factors approach to design
that examines the range of activities, interactions, people, technology, and design of the
workspace and its elements.
Keywords
Ambulatory Surgical Environments,
Workspaces,
Human-Factor,
Behavior Mapping,
shadowing,
nursing work,
team interaction
Publication Date
January, 2017
Citation Information
Joseph, A., Wingler, D., & Zamani, Z. (2017). Balancing the Human Touch with the Need for Integrating Technology in Ambulatory Surgical Environments: Barriers and Facilitators to Nursing Work and Care Team Interactions. Journal of Interior Design, 42(1), 39-65.