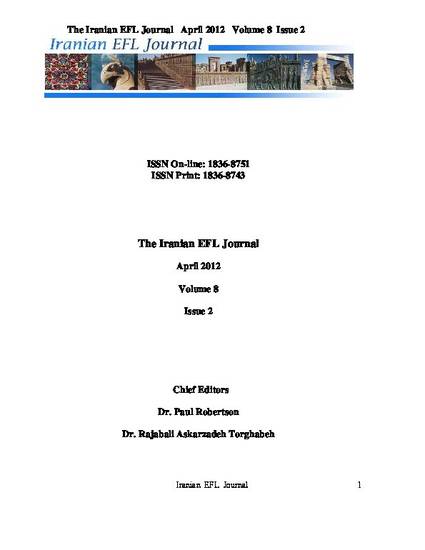 Article
Inflating and Persuading in the Discussion Sections of NSs' vs. PSs' Academic Research Articles
Iranian EFL Journal (2012)
Abstract
Through analyzing the employment of hedges and intensifiers in research articles (RAs) written by Persian and English writers, this study makes an attempt to find out whether Persian native writers take on the identity and norms of the discourse community in writing in the second language or preserve the cultural identity and norms of their native language. It, therefore, analyzes the types and frequencies of hedges and intensifiers employed in NS and NNS discussion sections of 20 Persian and 20 English academic RAs published between 2005 and 2010. To this aim, it compares the NS and PS frequencies of various types of hedging devices and intensifiers in written academic prose: epistemic, lexical, and possibility hedges, downtoners, assertive pronouns, and adverbs of frequency. In addition, intensifiers such as universal and negative pronouns, amplifiers and emphatics were also examined. A detailed examination of median frequency rates of hedges and intensifiers in NS and PS academic papers revealed that PS writers employ a more limited range of hedging devices largely associated with conversational discourse and casual spoken interactions. There were also a prevalence of intensifiers and overstatements that are ubiquitous in informal speech but are rare in formal academic prose. Closer analysis revealed that although there were differences between NSs and PSs with regard to the use of hedges and intensifiers, none of these differences were statistically significant.
Keywords
Hedges,
Intensifiers,
Inflating,
Persuading,
Formal academic prose
Citation Information
Zahra Alimorad and Rahman Sahragard. "Inflating and Persuading in the Discussion Sections of NSs' vs. PSs' Academic Research Articles"
Iranian EFL Journal
Vol. 8 Iss. 2 (2012)
Available at: http://works.bepress.com/zahra_alimorad/5/