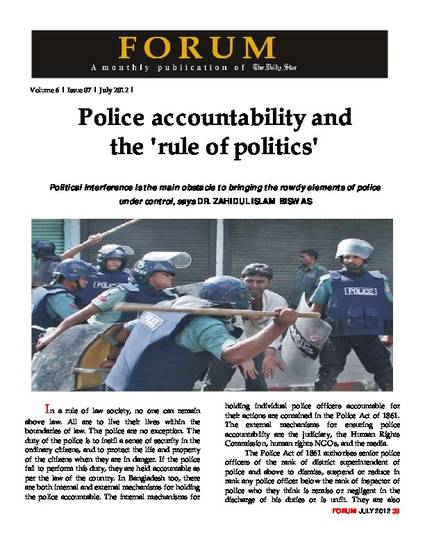 Article
Police accountability and the 'rule of politics'
Forum ( a monthly publication of The Daily Star, Bangladesh) (2012)
Abstract
In a rule of law society, no one can remain above law. All are to live their lives within the boundaries of law. The police are no exception. The duty of the police is to instil a sense of security in the ordinary citizens, and to protect the life and property of the citizens when they are in danger. If the police fail to perform this duty, they are held accountable as per the law of the country. In Bangladesh too, there are both internal and external mechanisms for holding the police accountable. The internal mechanisms for holding individual police officers accountable for their actions are contained in the Police Act of 1861. The external mechanisms for ensuring police accountability are the judiciary, the Human Rights Commission, human rights NGOs, and the media. However, these external and internal mechanisms for police accountability are not effective in Bangladesh. This article argues that this ineffectiveness is due to governments' political interference and lack of 'rule of law'.
Keywords
police accountibility,
rule of law,
rule of politics,
Bangladesh Police,
police governance,
Bangladesh politics,
police and politics,
political interference,
Police Acth
Publication Date
July, 2012
Citation Information
Dr. Zahidul Islam Biswas. "Police accountability and the 'rule of politics'"
Forum ( a monthly publication of The Daily Star, Bangladesh)
Vol. 6 Iss. 7 (2012)
Available at: http://works.bepress.com/zahid/7/