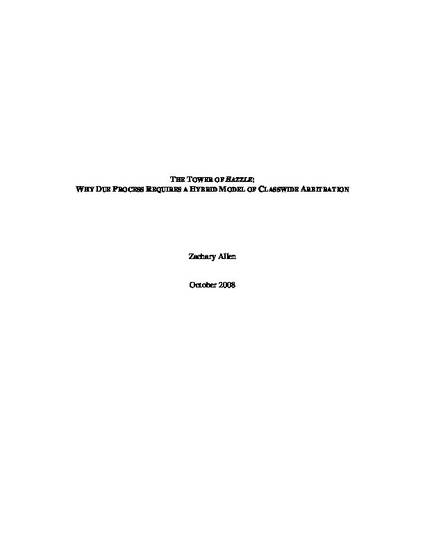 Unpublished Paper
The Tower of Bazzle: Why Due Process Requires a Hybrid Model of Classwide Arbitration
ExpressO (2008)
Abstract
During the late 1970s the United States witnessed the beginning of an uncomfortable courtship between two powerful dispute resolution mechanisms: arbitration and the class action. In 2003, the U.S. Supreme Court announced its approval of their marriage, referred to as classwide arbitration, in Green Tree Financial Corporation v. Bazzle. In Bazzle, the Court held that where an arbitration agreement is silent regarding classwide arbitration, the arbitrator—not the court—should interpret the agreement to determine whether it permits classwide arbitration.
Unfortunately, the Court's blessing was mixed. Bazzle is on infirm ground for two reasons. First, the Court could only muster a 4-1-4 plurality, and thus Bazzle could be easily "overruled" in the future. Additionally, the holding is exceedingly narrow, and leaves lower state and federal courts with wide latitude in handling classwide arbitrations. Second, and more important, subsequent developments in the area of classwide arbitration highlight infirmities in the substance of the Bazzle decision itself. It is not clear that Bazzle is sound even on its own facts because of the practical management problems it has created for courts and arbitrators, and because of the substantive legal and due process considerations it overlooked.
In light of Bazzle's weaknesses, the author argues that California's "hybrid" model of compelling classwide arbitration when called for, while reserving for the courts certain substantive and due process considerations, is preferable to any "pure" model of classwide arbitration that would preclude such judicial oversight.
Keywords
classwide arbitration,
arbitration,
class action,
dispute resolution
Publication Date
October 7, 2008
Citation Information
Zachary Allen. "The Tower of Bazzle: Why Due Process Requires a Hybrid Model of Classwide Arbitration"
ExpressO
(2008)
Available at: http://works.bepress.com/zachary_allen/1/