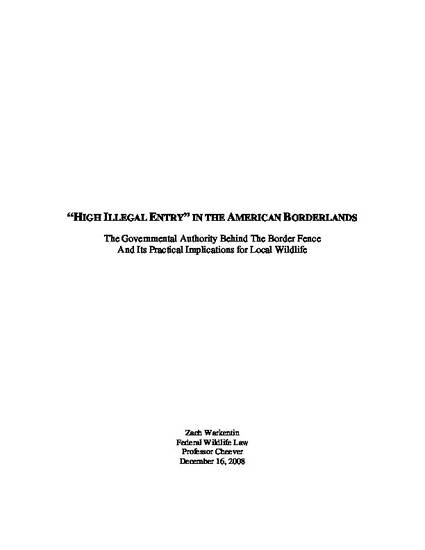 Unpublished Paper
"HIGH ILLEGAL ENTRY" IN THE AMERICAN BORDERLANDS
ExpressO (2009)
Abstract
The piece focuses on the constitutionality of an unprecedented waiver authority given to the Secretary of Homeland Security by the statutory underpinnings of the Border Wall. In authorizing the Department of Homeland Security to construct the wall, the U.S. Congress was attempting to drastically decrease the amount of illegal immigrant crossings into the United States. However, actual construction of the wall poised to drastically inhibit the migration and typical living patterns of numerous endangered and threatened animal species that live within the American Borderlands. It was therefore at direct odds with numerous federal and state laws, as well as international treaties.
To overcome the force of laws like the Clean Water Act and the Endangered Species Act, Congress gave to the Secretary, in his sole discretion, the authority to waive any law—international, federal, state or municipal—that interfered with the ensured and expeditious construction of the Border Wall. As a result, numerous groups, like Defenders of Wildlife and Sierra Club, and interested municipalities nation-wide are currently challenging the constitutionality of secretarial waiver use. My piece addresses each of these issues in turn.
Keywords
Border Wall,
waiver authority,
waiver provision,
secretary,
wildlife law,
el paso,
chertoff,
defenders
Publication Date
March 2, 2009
Citation Information
Zach W Warkentin. ""HIGH ILLEGAL ENTRY" IN THE AMERICAN BORDERLANDS"
ExpressO
(2009)
Available at: http://works.bepress.com/zach_warkentin/1/