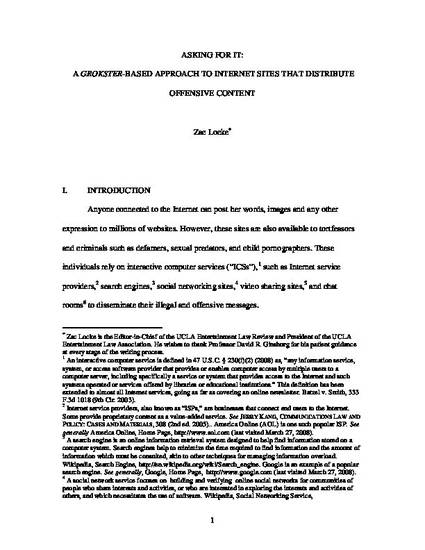 Article
ASKING FOR IT: A GROKSTER-BASED APPROACH TO INTERNET SITES THAT DISTRIBUTE OFFENSIVE CONTENT
Seton Hall Journal of Sports and Entertainment Law (2008)
Abstract
Anyone connected to the Internet can post their words, images and any other expression to millions of sites online. However, these sites are also available to tortfeasors and criminals such as defamers, sexual predators, and child pornographers. These individuals rely on interactive computer services ("ICSs"), such as Internet service providers, search engines, social networking sites, video sharing sites, and chat rooms, to disseminate their illegal and offensive messages. The fact that torts and crimes such as defamation, predation and child pornography happen in cyberspace instead of on a street corner does not shield speakers from liability for their actions. However, under the current federal framework, ICSs are shielded from liability for speech posted on their networks by third parties. The Communications Decency Act Section § 230 ("§230", or "CDA") provides complete immunity to ICSs, in suits that treat them as publishers or distributors of speech, for any information posted on their networks by third-party content providers. Courts simply will not blame the intermediary in the online context when a speaker harms a listener. However, there has been no effective legal response to § 230's perceived shortcomings. There are strong policy reasons for the unwillingness to hold ICSs liable for the speech of others. Consequently, I will argue against the scholarship that urges a Digital Millennium Copyright Act ("DMCA") notice and takedown approach to illegal third-party content. After rejecting the DMCA approach, this Comment argues that the current § 230 immunity goes too far by not allowing the courts to look at the actions of the ICS related to obtaining the third-party content. The Supreme Court's 2005 Grokster decision, which dealt with ICS liability for illegal third-party downloading, suggests an approach that could apply to the CDA: Did the ICS induce the third-party content provider to submit the type of material or engage in the type of communication that has been found to be illegal? My proposed test would not give complete immunity to ICSs regardless of their intentions or actions, as the current CDA does. However, my test would only allow for liability when the ICS has actually done something to encourage the illegal speech, not merely when it is a passive recipient. This would have the dual effect of not chilling too much speech while still promoting the goals Congress set out to achieve in promulgating the CDA: to make the Internet a unique forum for true diversity of human thought, for the benefit of all Americans.
Keywords
CDA,
Internet,
MySpace,
Grokster
Publication Date
Summer 2008
Citation Information
Zac Locke. "ASKING FOR IT: A GROKSTER-BASED APPROACH TO INTERNET SITES THAT DISTRIBUTE OFFENSIVE CONTENT"
Seton Hall Journal of Sports and Entertainment Law
Vol. 18 Iss. 2 (2008)
Available at: http://works.bepress.com/zac_locke/4/