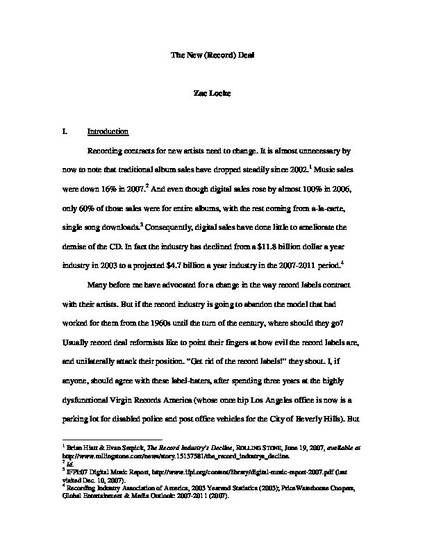 Article
The New (Record) Deal
UCLA Entertainment Law Review (2008)
Abstract
Recording contracts for new artists need to change. It is almost unnecessary by now to note that traditional album sales have dropped steadily since 2002. This Note is merely meant to start a debate on how to fix a system that is broken, and that those inside the industry have been unable to fix. The new record deal should be a non-exclusive, comprehensive revenue sharing model, based on a number of deliverable songs. This system could be more simple, more fair, and actually force labels and artists to work together to develop the artists' careers while providing both with new revenue sources. It could also be a disaster. But at least it is an attempt to fix a broken system.
Publication Date
Winter 2008
Citation Information
Zac Locke. "The New (Record) Deal"
UCLA Entertainment Law Review
Vol. 15 Iss. 1 (2008)
Available at: http://works.bepress.com/zac_locke/3/