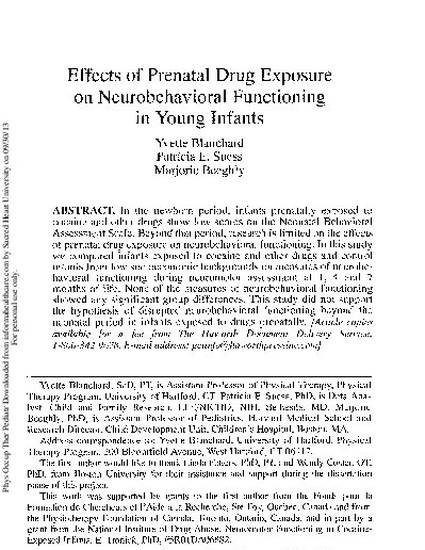 Article
Effects of Prenatal Drug Exposure on Neurobehavioral Functioning in Young Infants
Physical and Occupational Therapy in Pediatrics
Document Type
Peer-Reviewed Article
Publication Date
1-1-1998
Abstract
In the newborn period, infants prenatally exposed to cocaine and other drugs show low scores on the Neonatal Behavioral Assessment Scale. Beyond that period, research is limited on the effects of prenatal drug exposure on neurobehavioral functioning. In this study we compared infants exposed to cocaine and other drugs and control infants from low socioeconomic backgrounds on measures of neurobehavioral functioning during neuromotor assessment at 1, 4 and 7 months of life. None of the measures of neurobehavioral functioning showed any significant group differences. This study did not support the hypothesis of disrupted neurobehavioral functioning beyond the neonatal period in infants exposed to drugs prenatally.
Citation Information
Yvette Blanchard, Patricia E. Suess and Marjorie Beeghly. "Effects of Prenatal Drug Exposure on Neurobehavioral Functioning in Young Infants"
Physical and Occupational Therapy in Pediatrics
Vol. 18 Iss. 3-4 (1998)
Available at: http://works.bepress.com/yvette_blanchard/11/