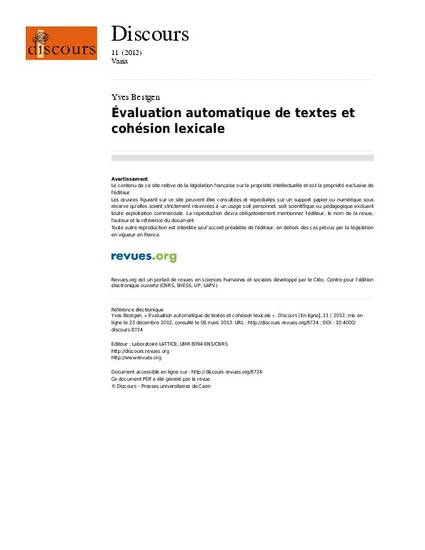 Article
Evaluation automatique de textes et cohésion lexicale
Discours (2012)
Abstract
(Article in French). Automatic essay grading is currently experiencing a growing popularity because of its importance in the field of education and, particularly, in foreign language learning. While several efficient systems have been developed over the last fifteen years, almost none of them take the discourse level into account. Recently, a few studies proposed to fill this gap by means of automatic indexes of lexical cohesion obtained from Latent Semantic Analysis, but the results were disappointing. Based on a well-known model of writing expertise, the present study proposes a new index of cohesion derived from work on the thematic segmentation of texts. The efficiency of this index is supported through the analysis of a corpus of 223 essays of learners of English as a foreign language. The conclusion discusses the main limitations of this exploratory study and proposes further avenues for development.
Citation Information
Yves Bestgen. "Evaluation automatique de textes et cohésion lexicale"
Discours
Vol. 11 (2012)
Available at: http://works.bepress.com/yvesbestgen/9/