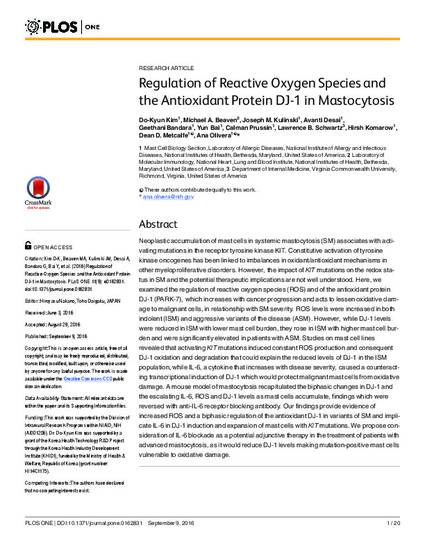 Article
Regulation of Reactive Oxygen Species and the Antioxidant Protein DJ-1 in Mastocytosis
PLOS ONE
Original Publication Date
2016
DOI of Original Publication
10.1371/journal.pone.0162831
Date of Submission
November 2016
Abstract
Neoplastic accumulation of mast cells in systemic mastocytosis (SM) associates with activating mutations in the receptor tyrosine kinase KIT. Constitutive activation of tyrosine kinase oncogenes has been linked to imbalances in oxidant/antioxidant mechanisms in other myeloproliferative disorders. However, the impact of KIT mutations on the redox status in SM and the potential therapeutic implications are not well understood. Here, we examined the regulation of reactive oxygen species (ROS) and of the antioxidant protein DJ-1 (PARK-7), which increases with cancer progression and acts to lessen oxidative damage to malignant cells, in relationship with SM severity. ROS levels were increased in both indolent (ISM) and aggressive variants of the disease (ASM). However, while DJ-1 levels were reduced in ISM with lower mast cell burden, they rose in ISM with higher mast cell burden and were significantly elevated in patients with ASM. Studies on mast cell lines revealed that activating KIT mutations induced constant ROS production and consequent DJ-1 oxidation and degradation that could explain the reduced levels of DJ-1 in the ISM population, while IL-6, a cytokine that increases with disease severity, caused a counteracting transcriptional induction of DJ-1 which would protect malignant mast cells from oxidative damage. A mouse model of mastocytosis recapitulated the biphasic changes in DJ-1 and the escalating IL-6, ROS and DJ-1 levels as mast cells accumulate, findings which were reversed with anti-IL-6 receptor blocking antibody. Our findings provide evidence of increased ROS and a biphasic regulation of the antioxidant DJ-1 in variants of SM and implicate IL-6 in DJ-1 induction and expansion of mast cells with KIT mutations. We propose consideration of IL-6 blockade as a potential adjunctive therapy in the treatment of patients with advanced mastocytosis, as it would reduce DJ-1 levels making mutation-positive mast cells vulnerable to oxidative damage.
Rights
This is an open access article, free of all copyright, and may be freely reproduced, distributed, transmitted,modified, built upon, or otherwise used by anyone for any lawful purpose. The work is made available under the Creative Commons CC0 public domain dedication.
Is Part Of
VCU Internal Medicine Publications
Citation Information
Do-Kyun Kim, Michael A. Beaven, Joseph M. Kulinski, Avanti Desai, et al.. "Regulation of Reactive Oxygen Species and the Antioxidant Protein DJ-1 in Mastocytosis"
PLOS ONE
Vol. 11 Iss. 9 (2016)
Available at: http://works.bepress.com/yun_bai/30/