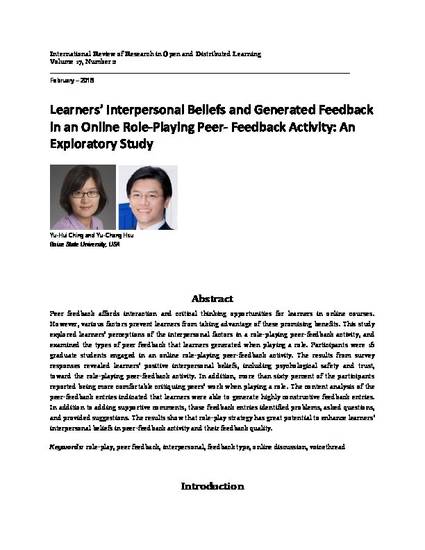 Article
Learners' Interpersonal Beliefs and Generated Feedback in an Online Role-Playing Peer-Feedback Activity: An Exploratory Study
International Review of Research in Open and Distributed Learning
Publication Date
2-1-2016
Abstract
Peer feedback affords interaction and critical thinking opportunities for learners in online courses. However, various factors prevent learners from taking advantage of these promising benefits. This study explored learners' perceptions of the interpersonal factors in a role-playing peer-feedback activity, and examined the types of peer feedback that learners generated when playing a role. Participants were 16 graduate students engaged in an online role-playing peer-feedback activity. The results from survey responses revealed learners' positive interpersonal beliefs, including psychological safety and trust, toward the role-playing peer-feedback activity. In addition, more than sixty percent of the participants reported being more comfortable critiquing peers' work when playing a role. The content analysis of the peer-feedback entries indicated that learners were able to generate highly constructive feedback entries. In addition to adding supportive comments, those feedback entries identified problems, asked questions, and provided suggestions. The results show that role-play strategy has great potential to enhance learners' interpersonal beliefs in peer-feedback activity and their feedback quality.
Citation Information
Yu-Hui Ching and Yu-Chang Hsu. "Learners' Interpersonal Beliefs and Generated Feedback in an Online Role-Playing Peer-Feedback Activity: An Exploratory Study"
International Review of Research in Open and Distributed Learning
(2016)
Available at: http://works.bepress.com/yuchang_hsu/56/