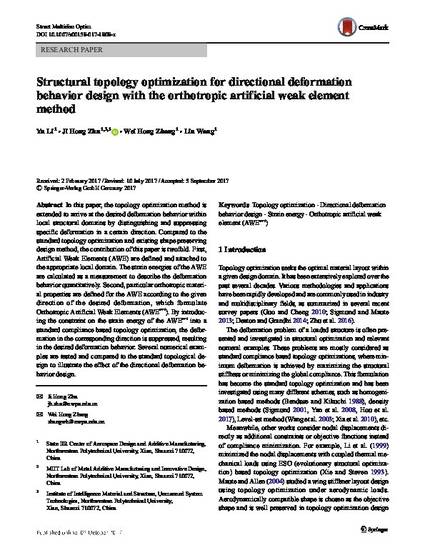 Article
Structural topology optimization for directional deformation behavior design with the orthotropic artificial weak element method
Struct Multidisc Optim (2017)
Abstract
In this paper, the topology optimization method is extended to arrive at the desired deformation behavior within local structural domains by distinguishing and suppressing specific deformation in a certain direction. Compared to the standard topology optimization and existing shape preserving design method, the contribution of this paper is twofold. First, Artificial Weak Elements (AWE) are defined and attached to the appropriate local domain. The strain energies of the AWE are calculated as a measurement to describe the deformation behavior quantitatively. Second, particular orthotropic material properties are defined for the AWE according to the given direction of the desired deformation, which formulate Orthotropic Artificial Weak Elements (AWE). By introducing the constraint on the strain energy of the AWE into a standard compliance based topology optimization, the deformation in the corresponding direction is suppressed, resulting in the desired deformation behavior. Several numerical examples are tested and compared to the standard topological design to illustrate the effect of the directional deformation behavior design.
Keywords
Topology optimization . Directional deformation behavior design . Strain energy . Orthotropic artificial weak element (AWEort)
DOI
https://doi.org/10.1007/s0015
Citation Information
Yu Li. "Structural topology optimization for directional deformation behavior design with the orthotropic artificial weak element method"
Struct Multidisc Optim
(2017)
Available at: http://works.bepress.com/yu-li/2/