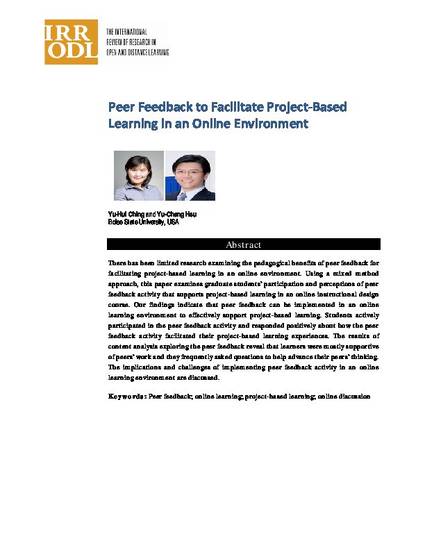 Article
Peer Feedback to Facilitate Project-Based Learning in an Online Environment
The International Review of Research in Open and Distance Learning
Publication Date
12-1-2013
Abstract
There has been limited research examining the pedagogical benefits of peer feedback for facilitating project-based learning in an online environment. Using a mixed method approach, this paper examines graduate students' participation and perceptions of peer feedback activity that supports project-based learning in an online instructional design course. Our findings indicate that peer feedback can be implemented in an online learning environment to effectively support project-based learning. Students actively participated in the peer feedback activity and responded positively about how the peer feedback activity facilitated their project-based learning experiences. The results of content analysis exploring the peer feedback reveal that learners were mostly supportive of peers' work and they frequently asked questions to help advance their peers' thinking. The implications and challenges of implementing peer feedback activity in an online learning environment are discussed.
Copyright Statement
This document was originally published by Athabasca University in The International Review of Research in Open and Distance Learning. This work is provided under a Creative Commons Attribution 3.0 License. Details regarding the use of this work can be found at: http://creativecommons.org/licenses/by/3.0/.
Citation Information
Yu-Hui Ching and Yu-Chang Hsu. "Peer Feedback to Facilitate Project-Based Learning in an Online Environment"
The International Review of Research in Open and Distance Learning
(2013)
Available at: http://works.bepress.com/yu-hui_ching/26/