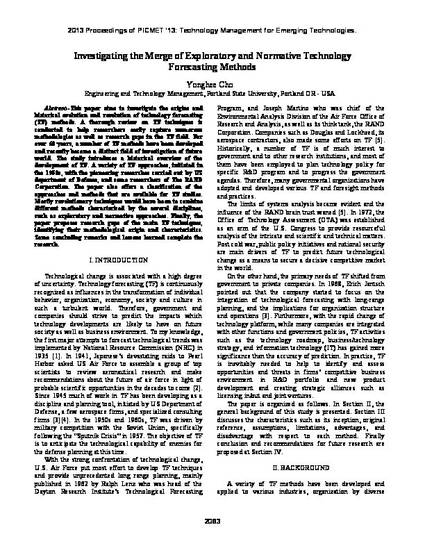 Article
Investigating the Merge of Exploratory and Normative Technology Forecasting Methods
2013 Proceedings of PICMET '13: Technology Management for Emerging Technologies (2013)
Abstract
This  paper  aims  to  investigate  the  origins  and
historical  evolution  and  revolution  of  technology  forecasting
(TF)   methods.   A   thorough   review   on   TF   techniques   is
conducted   to   help   researchers   easily   capture   numerous
methodologies  as  well  as  research  gaps  in  the  TF  field.  For
over 60 years, a number of TF methods have been developed
and recently become a distinct field of investigation of future
world.  The  study  introduces  a  historical  overview  of  the
development  of  TF.  A  variety  of  TF  approaches,  initiated  in
the  1950s,  with  the  pioneering  researches  carried  out  by  US
department  of  Defense,  and  some  researchers  of  The  RAND
Corporation.  The  paper  also  offers  a  classification  of  the
approaches  and  methods  that  are  available  for  TF  studies.
Mostly revolutionary techniques would have been to combine
different  methods  characterized  by  the  several  disciplines,
such  as  exploratory  and  normative  approaches.  Finally,  the
paper  proposes  research  gaps  of  the  main  TF  techniques,
identifying  their  methodological  origin  and  characteristics.
Some  concluding  remarks  and  lessons  learned  complete  the
research.
Citation Information
Yonghee Cho. "Investigating the Merge of Exploratory and Normative Technology Forecasting Methods"
2013 Proceedings of PICMET '13: Technology Management for Emerging Technologies
(2013)
Available at: http://works.bepress.com/yonghee_cho/11/