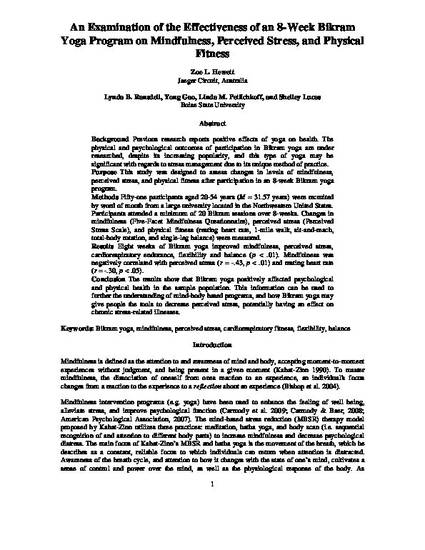 Article
An Examination of the Effectiveness of an 8-Week Bikram Yoga Program on Mindfulness, Perceived Stress, and Physical Fitness
Journal of Exercise Science & Fitness
Publication Date
12-1-2011
DOI
http://dx.doi.org/10.1016/S1728-869X(12)60003-3
Abstract
Previous research reports positive effects of yoga on health. The physical and psychological outcomes of participation in Bikram yoga are under-researched despite its increasing popularity, and this type of yoga may be significant with regards to stress management due to its unique method of practice. This study was designed to assess changes in levels of mindfulness, perceived stress, and physical fitness after participation in an 8-week Bikram yoga program. Fifty-one participants aged 20–54 years (mean, 31.57 years) were recruited by word of mouth from a large university located in the Northwestern United States. Participants attended a minimum of 20 Bikram sessions over 8 weeks. Changes in mindfulness (Five-Facet Mindfulness Questionnaire), perceived stress (Perceived Stress Scale), and physical fitness (resting heart rate, 1-mile walk, sit-and-reach, total-body rotation, and single-leg balance) were measured. Eight weeks of Bikram yoga improved mindfulness, perceived stress, cardiorespiratory endurance, flexibility and balance (p < 0.01). Mindfulness was negatively correlated with perceived stress (r=−0.43, p < 0.01) and resting heart rate (r=−0.30, p < 0.05). The results show that Bikram yoga positively affected psychological and physical health in the sample population. This information can be used to further the understanding of mind-body based programs, and how Bikram yoga may give people the tools to decrease perceived stress, potentially having an effect on chronic stress-related illnesses.
Copyright Statement
This is an author-produced, peer-reviewed version of this article. © 2009, Elsevier. Licensed under the Creative Commons Attribution-NonCommercial-NoDerivatives 4.0 International License (https://creativecommons.org/licenses/by-nc-nd/4.0/). The final, definitive version of this document can be found online at Journal of Exercise Science & Fitness, doi: 10.1016/S1728-869X(12)60003-3
Citation Information
Zoe L. Hewett, Lynda B. Ransdell, Yong Gao, Linda M. Petlichkoff, et al.. "An Examination of the Effectiveness of an 8-Week Bikram Yoga Program on Mindfulness, Perceived Stress, and Physical Fitness"
Journal of Exercise Science & Fitness
(2011)
Available at: http://works.bepress.com/yong_gao/13/