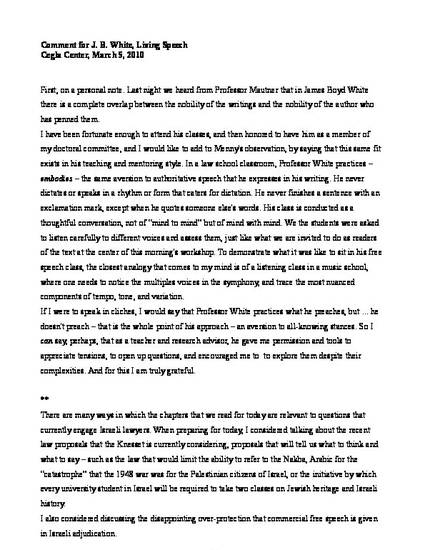 Presentation
Comment on James Boyd White's book "Living Speech" (Princeton 2006)
Cegla Center for Interdisciplinary Research of the Law (2010)
Abstract
Professor White introduces a new way for thinking about speech; a new measure for assessing it. He invites us to use speech carefully and responsibly, in what he calls "living speech." Caring about the value of speech is not merely an aesthetic endeavor. As meaning making creatures, as "centers of meaning," we should know how to recognize the speech that is essential to our humanness. Because living speech is "what enables any of us to be a person in the first place" (16).
How can we recognize living speech? The short answer that White gives us, which is indeed poetic and at first sight quite vague, is that living speech is "speech that comes from inner silence and takes place in outer silence"( 41).
What is this silence for him? What does it represent? What role does it play?
I think silence here stands for a space within the speaker and the listener that is free of predetermined judgment, of knowing in advance everything there is to know about the case Silence within the speaker and the listener represents their ability to suspend judgment and create unexpected, maybe even surprising and innovative, meanings to the question at hand. It is not a peaceful quietness, but an alert one. One that expects not merely to do things with language, but for the things language will do with us. Such usage of language is bound to produce new insights, both through what is said, and through the silences that surround it.
Keywords
Law and literature,
Silence,
Normalization,
Legal discourse
Publication Date
March 5, 2010
Citation Information
Yofi Tirosh. "Comment on James Boyd White's book "Living Speech" (Princeton 2006)"
Cegla Center for Interdisciplinary Research of the Law
(2010)
Available at: http://works.bepress.com/yofi_tirosh/8/