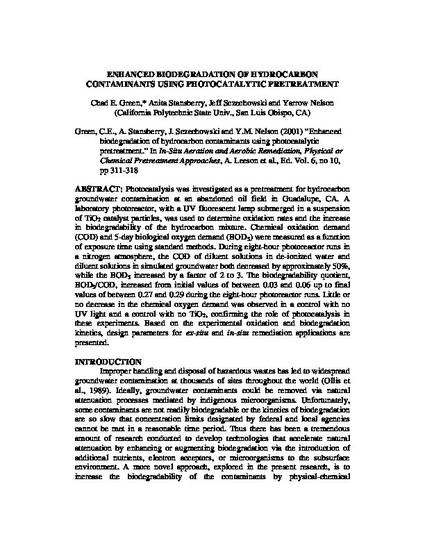 Presentation
Enhanced Biodegradation of Hydrocarbon Contaminants Using Photocatalytic Pretreatment
In situ Aeration and Aerobic Remediation
Publication Date
1-1-2001
Abstract
Photocatalysis was investigated as a pretreatment for hydrocarbon groundwater contamination at an abandoned oil field in Guadalupe, CA. A laboratory photoreactor, with a UV fluorescent lamp submerged in a suspension of TiO2 catalyst particles, was used to determine oxidation rates and the increase in biodegradability of the hydrocarbon mixture. Chemical oxidation demand (COD) and 5-day biological oxygen demand (BOD5) were measured as a function of exposure time using standard methods. During eight-hour photoreactor runs in a nitrogen atmosphere, the COD of diluent solutions in de-ionized water and diluent solutions in simulated groundwater both decreased by approximately 50%, while the BOD5 increased by a factor of 2 to 3. The biodegradability quotient, BOD5/COD, increased from initial values of between 0.03 and 0.06 up to final values of between 0.27 and 0.29 during the eight-hour photoreactor runs. Little or no decrease in the chemical oxygen demand was observed in a control with no UV light and a control with no TiO2, confirming the role of photocatalysis in these experiments. Based on the experimental oxidation and biodegradation kinetics, design parameters for ex-situ and in-situ remediation applications are presented.
Citation Information
Chad E. Green, Anita Stansberry, Jeff Sczechowski and Yarrow Nelson. "Enhanced Biodegradation of Hydrocarbon Contaminants Using Photocatalytic Pretreatment"
In situ Aeration and Aerobic Remediation
Vol. 6 Iss. 10 (2001) p. 311 - 318
Available at: http://works.bepress.com/ynelson/6/